Macri will announce his economic team and measures once he has access to official data
Tuesday, November 24th 2015 - 12:21 UTC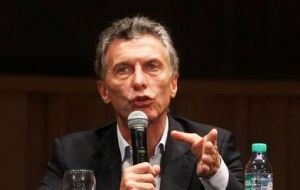 In his first press conference as Argentine president-elect, Mauricio Macri announced on Monday he would not have a Secretary of Economy but rather an economic cabinet with six members, and anticipated that the team that will be taking office with him, as well as those in the province of Buenos Aires, "will include many officials which do not come from the political system".
Macri also celebrated that "transition" between president Cristina Fernandez stepping down and him taking office next 10 December will be 'short', although he complained he was much limited because of the absence of reliable economic and financial data on government accounts.
"This week we are going to work actively to define as soon as possible the economic cabinet" said Macri, and immediately added "we're not going to have an Economy secretary, but a Finance minister and six ministers in total forming the economic team".
The six areas of the economic cabinet are to be: Treasury and Finance; Labor; Energy; Production; Transport, and Agriculture, Livestock and Fisheries.
The president-elect campaign manager and most probably cabinet chief Marcos Peña said that once the economic team is working they would be able to deliver more details regarding the package of measures which are planned for the area.
Macri then went on to claim that "we still are not aware and have not been told what are the reserves of the Central bank. The bank over the weekend announced that the private system's dollar reserves would be lower, which surprised us all, and which only confirms there's a serious problem. We also have a problem with inflation, when we have an idea of government accounts, in red or black, I will be able to tell you what the real situation is, but we don't have access to that level of information".
Likewise "one of the reasons why Argentines decided for a change has been precisely because they want a government that reports to them, and tells them the truth about the situation, and that we will have on 10 December".
"You'll be surprised to see how many valuable and capable people that have never been involved in politics before, Argentina has and can provide. And this goes for the national government and for the province of Buenos Aires, which is what governor-elect Maria Eugenia Vidal is doing", pointed out Macri. "We want the best minds to join us so we can build better proposals and the best solutions for the Argentines".
Asked specifically about economic measures, Macri admitted his idea was that on 10 December the dollar clamp ends and there should be an only free floating exchange rate, but 'much depends on the information we do not have at this time"
The president elect who does not have a majority in Congress, again repeated he plans to rule 'for all', since "there's much more that unites us and links us than what has us apart, and that is how it will be from the very first day".
Asked specifically about the less than three-point difference with his opponent, incumbent Scioli, his campaign manager Peña said "I don't believe it represents a country split in half, I think there is a clear majority of Argentines who are longing for dialogue, moderation, understanding and this is extensive to many of the followers of Scioli".
Macri finally pledged there would be no changes in the human rights policy regarding dictatorship crimes and also indicated "there is to be no impunity, but also no reprisals; hopefully this change of times is going to be deep and shared by all Argentines".