Falklands will attend Overseas Territories ministerial meeting in London
Thursday, November 26th 2015 - 07:57 UTC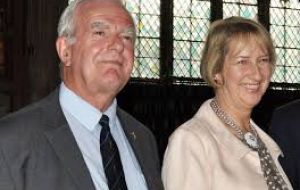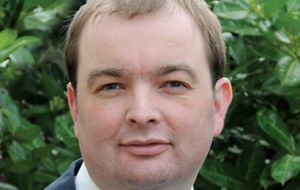 Representatives from the Falkland Islands will be attending the Overseas Territories Joint Ministerial Council 2015, JMC, in London on the 1-2 December. The fourth meeting of the Overseas Territories Joint Ministerial Council (JMC) will be held at Lancaster House and will be hosted by FCO Minister for the Overseas Territories James Duddridge MP.
The Falklands delegation includes MLA Roger Edwards, Sukey Cameron MBE, head of the Falklands' government office, FIGO, in London and Vicky Jackson, Senior public policy advisor from FIG's Policy Unit.
The JMC is the principal forum for reviewing and implementing the shared strategy for promoting security, good governance and sustainable development of the Overseas Territories (OTs). The strategy, set out in the 2012 Overseas Territories White Paper, calls for a whole of government approach to supporting the Overseas Territories and Territory leaders will have discussions with ministers from a range of UK government departments.
Issues to be discussed this year include child safeguarding, economic development, and setting a vision for the UK and the OTs in 2030. Elected leaders and representatives from the following Territories, besides Falklands, will attend: Anguilla; Bermuda; British Virgin Islands; Cayman Islands; Gibraltar; Montserrat; Pitcairn; St Helena, Ascension and Tristan da Cunha, and Turks and Caicos Islands.