"Christians and Muslims are brothers and sisters" Francis tells Africans ravaged by sectarian conflict
Tuesday, December 1st 2015 - 08:15 UTC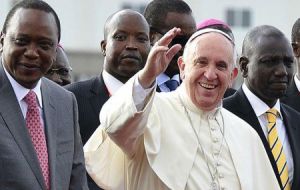 Pope Francis on Monday said Christians and Muslims were "brothers" and urged them to reject hatred and violence as he visited a mosque in the Central African Republic's capital which has been ravaged by sectarian conflict.
On the last leg of a three-nation tour of Africa, the leader of the world's 1.2 billion Catholic visited a flashpoint Muslim neighborhood in Bangui on what was the most dangerous part of his 24-hour visit.
Thousands of people gathered at the roadside, cheering as his pope-mobile drove down the red dirt roads. As his vehicle passed, many waving Vatican flags and dressed in long traditional robes, ran down the road after it.
"Christians and Muslims are brothers and sisters," he said after meeting Muslim leaders at the Koudoukou mosque in the PK5 district, the last Muslim enclave in Bangui where tensions remain high after more than two years of violence.
"Together, we must say no to hatred, to revenge and to violence, particularly that violence which is perpetrated in the name of a religion or of God himself," he said. The pope spoke in Latin, which was then translated into the local Sango language.
The pope later flew out of Bangui to head back to Rome, ending his first trip to Africa that also took in Kenya and Uganda.
Francis' message of peace and reconciliation appeared to have made a powerful impression, with a group of Muslim rebels turning up to join tens of thousands watching a papal mass at the capital's Barthelemy Boganda stadium.
In extraordinary scenes just before the pope's arrival, two pickup trucks pulled up in the middle of the crowd and a group of Muslims from PK5 leapt out, all wearing T-shirts bearing the pope's image, according to an AFP correspondent.
As they pushed through the crowd in an area where Muslims usually do not dare to venture, people cheered and applauded, shouting: "It's over" in reference to the inter-communal hatred that has blighted the country since a 2013 coup sparked a cycle of revenge attacks.
Several hundred people had packed into the mosque, including a number actually living there after being forced out of their homes by the violence.
Francis said his visit to CAR "would not be complete if it did not include this encounter with the Muslim community," saying all those who believed in God "must be men and women of peace".
He was greeted at the mosque by the Grand Imam Nehedi Tidjani, who once again said Muslims and Christians must "live together".
Perched high on the mosque's minarets were armed UN peacekeepers from the MINUSCA force who were keeping a close eye on the crowds as a helicopter buzzed overhead.
At the edge of the district, armed Muslim rebels stood alert in front of wooden barricades, watching out for any threat from Christian vigilantes. Despite the tight security, the visit took place in a relaxed atmosphere.
The pope began his Bangui trip on Sunday, urging people to avoid "the temptation of fear of others" of a different ethnic group or religion, before visiting a camp housing some 3,000 internally displaced people in the heart of the capital.
The 78-year-old's words of peace and hope -- and the fact that he actually visited the country despite significant security concerns -- struck a chord with locals and drew pledges of peace and forgiveness.
The landlocked Central African Republic descended into bloodshed after longtime Christian leader Francois Bozize was ousted by rebels from the mainly Muslim Seleka force in March 2013.
The coup triggered a wave of violence between Muslim rebels and Christian "anti-balaka" militias, plunging the former French colony into its worst crisis since independence in 1960.