Brazil's worst mining disaster will stress test 'king iron' Vale's resources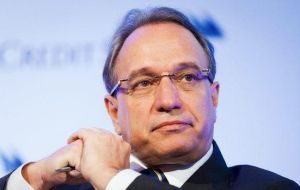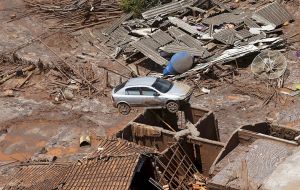 Brazil's deadly mining disaster could cost Vale SA at least US$443 million, but it is too early to put a price tag on what it expects to be a long clean-up from the pollution spilled when the toxic dam burst.
In a presentation preparing investors for what it expects to be a difficult 2016, the world's largest iron ore producer said it planned to cut capital investments to about US$6 billion, down by about a third from 2015 plans.
Vale SA Chief Executive Officer Murilo Ferreira said environmental recovery from the disaster on November 5 at the Samarco joint venture co-owned with Australia's BHP Billiton would take time and a lot of help.
"We acknowledge the seriousness of the moment and we are committed to helping and already engaged in joint co-ordination," he said at the company's annual 'Vale Day' event in New York.
The disaster, described by the government as Brazil's worst-ever environmental disaster, killed at least 13 people and flooded thick mud across two states. Toxic materials such as arsenic were found in river water days after the dam burst.
The ultimate financial costs of the incident could be far higher than Vale's estimate. None of the US$443 million outlined in their presentation involves legal costs. The bulk is for lost sales to Samarco, which supplemented its production from its own mine.
Vale general counsel Clovis Torres said Vale had not yet been served with a 20 billion Brazilian reais (7.2bn dollars) lawsuit filed by the Brazilian government on Monday. He said a river near the dam burst may have already been heavily polluted even before the incident.
"As soon as we identify the lawsuit and the numbers they are referring to, we will sit down with the federal government to analyze it all"' Torres said. BHP and Samarco were also named in the suit.
During the event, Fitch Ratings put Vale on negative watch, citing expectations the company will need to provide significant financial assistance. The agency also downgraded Samarco's debt ratings to BB- from BBB.
Vale Chief Financial Officer Luciano Siani said the downgrade was more related to the 41% decline in the price of iron ore in the last year than the Samarco tragedy.