Largest whale stranding, 337 Sei specimens, reported in extreme south Chile
Wednesday, December 2nd 2015 - 12:21 UTC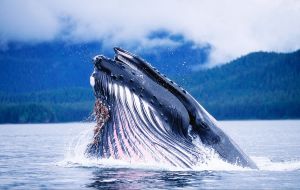 A total of 337 sei whales have been found beached in the extreme south of Chile in what scientists state is one of the biggest whale stranding ever recorded. Biologist Vreni Häussermann made the discovery along with other scientists in June during an observation flight over fjords in Chile's southern Patagonia region.
"This is one of the largest stranding worldwide," said Häussermann, the director of the Huinay Scientific Field Station, which focuses on marine research. She declined to disclose the conclusions, which will be published by a scientific journal later this year.
The scientific expedition counted 305 bodies and 32 skeletons of whales through aerial and satellite photography in the remote Aysen area between the Gulf of Penas and Puerto Natales. The cause of death of the sei whales is unknown, but human intervention has been ruled out.
Whale stranding are common in Aysen, a region of southern Patagonia where rainfall is nearly constant and rivers plunge from Andean glaciers to the Pacific Ocean through green valleys and fjords.
"They probably died at sea, we don't know exactly where, but they didn't just die by stranding," said Carolina Simon Gutstein, a paleontologist at University of Chile who was part of the team.
Sei, humpback and blue whales, which belong to the rorquals family, are the largest group of baleen whales, and "are not normally seen gathering in large groups," Gutstein said.
Scientists say the whale die-off might help them find out more about their habits and develop policies to protect them, including the creation of a whale sanctuary in the Gulf of Penas.
The first 37 beached whales were found in April by a team led by Häussermann. They alerted the National Fisheries Service, which launched an investigation in May together with environmental police and the Chilean Navy.
Since the Chilean Fisheries Service did not carry out observation flights, the scientists got funding for their own flights in June and August. They were unable to examine the whales because the area is so remote, the coast is so steep and the sea is so rough that it makes it nearly impossible to land. But they were still able to take the photographs to confirm the deaths.