Ambassador Castro thanks all those British who support the Malvinas Question
Thursday, December 3rd 2015 - 07:10 UTC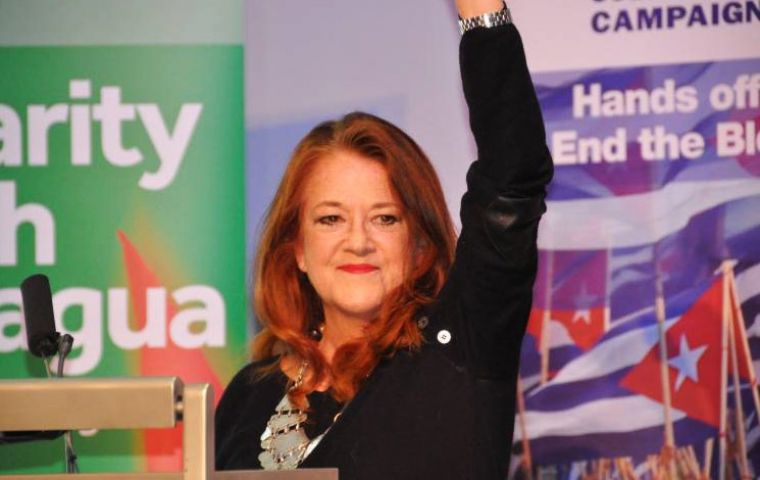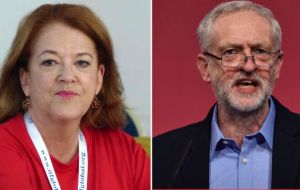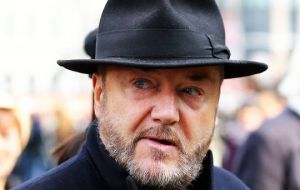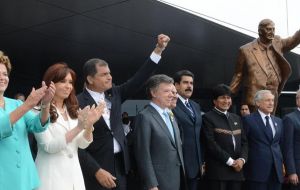 Argentine ambassador in London, Alicia Castro was a guest speaker at the Latin America conference held at the TUC headquarters, alongside other well known political and trade union figures.Her speech was met with a standing ovation from an audience of over 500 British attendants, whom she thanked for supporting Argentina on the Malvinas Question and in the litigation with the speculative or 'vulture' funds.
The conference is the major annual meeting of MPs, activists, organisations, trade union leaders, journalists and academics who support Latin American causes. Ambassador Alicia Castro thanked several MPs, including Labour leader Jeremy Corbyn, for supporting dialogue and opposing the vulture funds, according to an official release from the Argentine embassy in London.
The ambassador started by recalling that "over the last decade, we have seen a revolutionary change in Latin America. In only 10 years an extraordinary process of unity has taken place, thanks to a group of leaders such as Nestor and Cristina Kirchner, Lula, Dilma, Evo Morales, Rafael Correa, Michelle Bachelet and Hugo Chávez. We are now organized in new regional bodies, like UNASUR and the Community of Latin American and Caribbean States (CELAC) – a bloc that is determined to strengthen the self-esteem of its peoples, to forge our economic independence and exercise our political sovereignty".
"Unity in Latin America is not merely an "ideological" matter; it is also a matter of economic "convenience". The 33 countries that today comprise the CELAC have 600 million inhabitants and occupy an area covering over 20 million square kilometers. According to ECLAC figures, for the first time we have achieved sustained inclusive economic growth, both in Argentina and the region as a whole. The region's overall Gross Domestic Product (GDP) totals 7 trillion dollars, making it the third greatest economic power globally, as well as being the top producer of food and the third largest producer of electricity worldwide. We possess trained human resources, all key natural resources and the world's greatest biodiversity to help drive our own development. Breaking up the unity of South America and the Caribbean would be an economically stupid move" she added.
Ambassador Castro stressed that Latin America is, above all, a region of peace. "In a world of chaos, we are a region of peace. We do not believe that war can resolve disputes, we do not believe in killing to impose a given political or economic system, we do not agree with foreign interventions. As Jeremy Corbyn has recently said, such policies only "feed a cycle of violence and hate". Those who believe that more bombing and foreign boots in the Middle East will bring peace have not read the newspapers in the last 15 years".
"I would like to take this opportunity to thank our British friends, all the people, organizations, unions, those who love and respect the people of Latin America, who join us in our call for dialogue in order to seek a peaceful and definitive settlement over the Malvinas Islands sovereignty dispute in accordance with over 40 UN resolutions. As our President Cristina Fernández de Kirchner has said, "this is not a national cause, it is a regional cause, it is a global cause of those who oppose colonialism, of all those who oppose imperialism."
The Ambassador discussed the global espionage conducted by the US government and GCHQ. "In April this year we all came across fresh revelations from Edward Snowden about British intelligence operations seeking to prevent Argentina from recovering the Malvinas Islands.
According to journalist Glenn Greenwald, writing in The Intercept, these actions, which are reported to have sought to manipulate public opinion and distort facts, were carried out in order to counter growing international pressure to resolve the sovereignty dispute over the Malvinas, given the significant support our country has received over recent years." "My President Cristina Fernandez de Kirchner is the first and only Head of State who has visited Edward Snowden in Moscow. She recognizes the critical importance of respecting the privacy of the Argentine people and of seeking digital sovereignty."
The Ambassador also thanked the British people for their significant support in opposing the 'vulture' funds. "The dilemma is: who will rule the international financial system, a group of rogue speculators or sovereign states?"
Lastly, Alicia Castro spoke about the current political situation in the region and warned of the risk of setbacks under newly-elected neoliberal governments.
"Latin America is currently facing all sorts of pressures and threats. I hope and I trust that the people of Latin America will continue to remember the past and those they will succeed in defending the rights they have earned over the last decade", Ambassador Castro concluded, thanking the international community for their support.
Other speakers at the event, including former MP and Mayor of London candidate, George Galloway, criticized the initial statements made by newly-elected Argentine President Mauricio Macri on foreign policy.
"His first actions where to request Venezuela's removal from MERCOSUR and denounce an agreement with Iran. But what potato will this put on the table of the Argentine people; it is merely an act of subordination to please the United States.
Argentina has been participating in this important UK forum since 2012.