Amnesty presses FIFA on Qatar's 'rampant migrant labor abuse'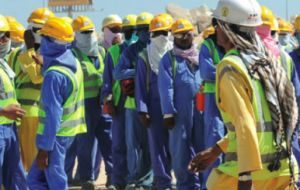 Five years to the day since Qatar secured 2022 World Cup hosting rights, Amnesty International says the Gulf nation has done little to "address rampant migrant labor abuse". Qatar has made pledges for labor reforms and the 2022 World Cup committee has introduced a workers' charter. But the kafala system of tied employment has yet to be overhauled to ease restrictions on workers' rights.
"Qatar's persistent labor reform delays are a recipe for human rights disaster," said Mustafa Qadri, Gulf migrant rights researcher at Amnesty International.
"The reforms proposed by the government fail to tackle the central issues that leave so many workers at the mercy of employers, yet even these changes have been delayed.
"Unless action is taken – and soon – then every football fan who visits Qatar in 2022 should ask themselves how they can be sure they are not benefiting from the blood, sweat and tears of migrant workers."
He added: "FIFA has played its part in this sorry performance. It knew there were labor rights issues in Qatar. It must work closely with the Qatari authorities and business partners to ensure the World Cup is not built on exploitation."
Amnesty International has carried out five research missions to Qatar in the past four years to investigate the conditions of the migrant labor force which is expected to reach two million within the next two years.
The human rights body said FIFA had done little "to press the hosts of its showpiece sporting event in the past five years".
"Most recently, FIFA failed to deliver on its promise in May to investigate the detention of British and German journalists who tried to investigate migrant workers' working and living conditions," Amnesty said.
Amnesty has issued fresh demands for FIFA to press the Qatari authorities to implement and monitor reforms to protect migrant workers' rights. It also wants FIFA and its partners to implement human rights due diligence systems that identify and prevent human rights abuses linked to the staging of the World Cup.
Responding to the criticism, Qatar 2022 organizers said Amnesty had not accurately reflected the progress the gas-rich nation had made: "Significant reforms have been made and more are in the pipeline."
In a statement, world football's governing body said: "FIFA is fully aware of the situation with regards to labor standards in Qatar and of the opportunity that FIFA, together with other stakeholders, has to improve working conditions in the country."