Argentina will have a state of the art fisheries research vessel in 2017
Thursday, December 3rd 2015 - 07:48 UTC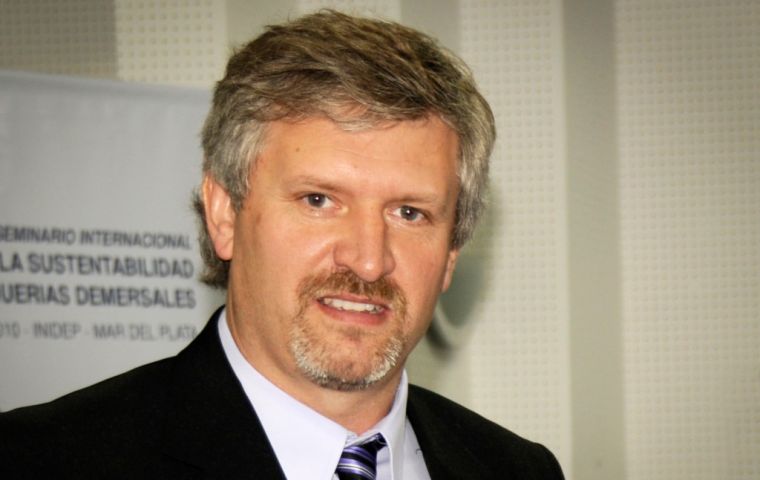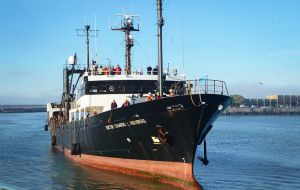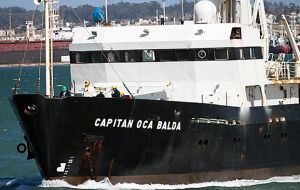 Argentina's Fisheries Research and Development Institute, INIDEP, has signed the contract for the construction of a new fisheries and oceanographic research vessel to be built at the Armon shipyard in Vigo, Spain. The financing for the vessel and refurbishing of INIDEP's offices and labs comes from the Inter-American Development bank with a 30m dollars loan.
"We're very satisfied with having concluded the two contracts", said INIDEP director, D. Otto Wöhler this week, who added that the expansion of offices, deposits and other spaces is crucial for the ongoing scientific activities deployed by INIDEP.
As to the research vessel, 52 meters long, one of the reasons for the contract going overseas to a Spanish company is the need for a "high sound proof hull; when you're collecting scientific data on shoals it's vital not to make noise and scare marine life. It's indispensable for any research of this kind. The contract has gone to a Spanish yard that is among the best in the world regarding this technology, and of which there is none in Argentina".
Dr. Wöhler made it a point in insisting that the sound proof issue was repeatedly discussed and the fact is "Argentina does not yet have that degree of technological development".
The vessel will be equipped with state of the art oceanographic research facilities and tools; an ample platform at the stern of the vessel for scientists to work; multi-purpose labs and obviously a very low sonority into the surrounding water. The Vigo yard has 18 months to deliver the vessel following the signing of the contract.
"It should be ready by mid 2017. She will then be exposed to sea trials for almost two months and then INIDEP will send the crew that will sail the vessel to Argentina. The crew will have to spend time in Vigo for the necessary training and complete command of the vessel, concluded Dr Wöhler.
INIDEP currently has three scientific research vessels, one based in Mar del Plata and two in Buenos Aires. Capitán Cánepa (230 tons) is a converted fishing vessel constructed in Argentina in 1964; Dr. L Holmberg, (958 tons) was specifically built for research in 1980, and Capitan Oca Balda (1.179 tons) incorporated in 1983 and ordered from Germany.
These two vessels have in the past been involved in joint fisheries scientific cruises with the Falklands' Fisheries Department in the South Atlantic based on a conservation agreement reached in the nineties but later dropped by the Nestor and Cristina Kirchner administration.
The IDB credit comes in the framework of the Program to Strengthen Fisheries and Aquaculture Development.