London and BOTs reaffirm right to self determination and "countering hostile sovereignty claims"
Saturday, December 5th 2015 - 07:39 UTC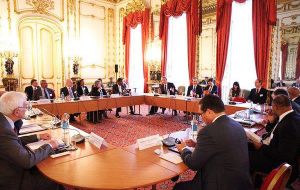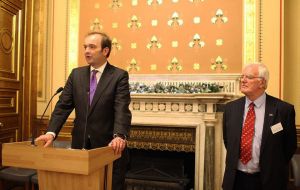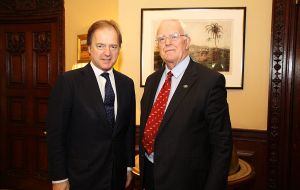 The United Kingdom and British Overseas Territories have agreed to work together to counter hostile sovereignty claims and defend the right to self determination, according to a communiqué issued by the Joint Ministerial Council meeting in London which also touches upon the EU Referendum, tax and banking.
The council, which brings together UK ministers and leaders of the Overseas Territories including the Falkland Islands, met at Lancaster House in London for discussions ranging from security and sovereignty to territorial waters, tax transparency, the environment and economic development. The meeting was hosted by Foreign Office minister for BOTs James Duddridge MP.
The Falklands delegation included MLA Roger Edwards, Sukey Cameron MBE, head of the Falklands' government office, FIGO, in London and Vicky Jackson, Senior public policy advisor from FIG's Policy Unit.
The UK and its Overseas Territories have agreed all parts of the UK government have a collective responsibility in promoting the right to self-determination. They committed to explore ways in which the Overseas Territories can maintain international support in countering hostile sovereignty claims. The fundamental structure of their constitutional relationships is the right one, they concluded, though they agreed to review the effectiveness of constitutional arrangements over time.
"We affirmed the importance of promoting the right of the peoples of the Territories to self-determination, a collective responsibility of all parts of the UK Government" said the communiqué. "We committed to explore ways in which the Overseas Territories can maintain international support in countering hostile sovereignty claims."
The UK and the Territories also committed themselves to ensuring the political, economic, social and educational advancement of the people of the Territories and their just treatment and protection from abuses.
"The principle of equal rights and self-determination of peoples, as enshrined in the UN Charter, applies to the peoples of the Overseas Territories".
The UK government also agreed to support the Overseas Territories in liaising with UK banks to ensure that Territories have full access to banking services. In this light, the statement also welcomed the creation of the Gibraltar International Bank.
The territories also restated their commitment to hold beneficial ownership information via central registers. There was discussion of how these systems should be implemented, and it was agreed that this issue would be given the highest priority.
Finally, on the EU referendum, it was agreed that the views of the Overseas Territory governments, on desirable reform to the union, would be taken into account.
Meanwhile, Prime Minister David Cameron has said he does not expect an agreement to be reached on his proposed EU reforms at this month's summit of European leaders.
The prime minister said "good progress" had been made in the talks, but the scale of the UK's aims meant he would not get an agreement "in one go".
European Council President Donald Tusk said the summit "should pave the way for a deal in February". Mr. Tusk will now write to all EU leaders with his assessment of Britain's reform objectives.