Oil futures fall sharply after OPEC agrees to keep 'current actual production'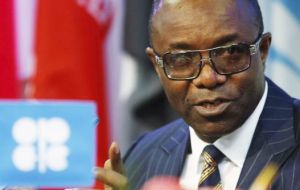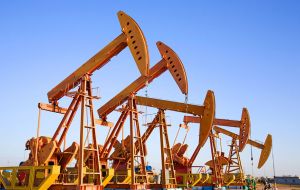 Oil futures fell sharply Friday, with the U.S. benchmark settling below $40 a barrel after the Organization of the Petroleum Exporting Countries agreed to keep pumping crude at current production levels despite a global glut.
Cartel members, meeting in Vienna, made no mention of a production target in their final communiqué. OPEC President Emmanuel Ibe Kachikwu told reporters that members saw no need to mention a hard figure but that there had been agreement to maintain a ceiling that reflects "current actual production"
While OPEC previously had a production ceiling of 30 million barrels a day, members have been producing closer to 31.5 million barrels a day, according to market estimates.
January Brent crude, the global oil benchmark, dropped 84 cents, or 1.9%, to close at $43 a barrel on London's ICE Futures exchange. It was down 4.2% for the week.
On the New York Mercantile Exchange, January West Texas Intermediate crude dropped $1.11, or 2.7%, to finish at $39.97 a barrel, after touching a $39.60 low. The contract saw a weekly decline of 4.2%.
In the run-up to the meeting, there was speculation the cartel would at least debate a production cut, though officials and analysts had largely played down talk of a move.
Most market participants had expected OPEC to stick to its ceiling of 30 million barrels a day. That number, though, is largely symbolic as the organization has been overshooting it for months. In September, OPEC produced 31.57 million barrels a day, according to its own data.
Analysts said the decision shows OPEC remains determined to continue pumping aggressively, putting pressure on U.S. shale producers and other sources of non-OPEC production in what amounts to a price war.
In the past, OPEC—which pumps about four out of 10 barrels of oil consumed each day around the globe—has throttled back on output to support prices. But in a break from that strategy, OPEC decided to keep its output ceiling unchanged at a meeting last year, despite a plunge in oil prices, in a bid to defend—and extend—its share of the oil market.