Russian sloops with Falklands/Malvinas names incorporated to Argentine Navy
Monday, December 7th 2015 - 06:45 UTC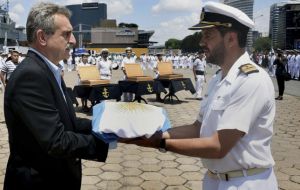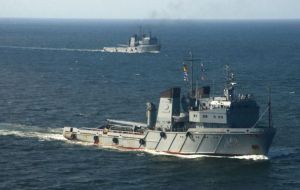 Four Russian built sloops with polar capacity were delivered in Buenos Aires this weekend and incorporated to the Argentine Navy, all of them with names related to the Falklands/Malvinas Islands. The vessels were formally received during a ceremony headed by Defense minister Agustín Rossi and the navy chief Admiral Gastón Fernando Erice.
"Some time has gone by since the Navy last incorporated new units. They will be replacing old ships with over sixty years in service, and above all this is significant for what it means to the Navy's spirit", said minister Agustín Rossi.
The vessels, ARA "Estrecho de San Carlos" (Falkland Sound) (A22); ARA "Puerto Argentino" (Port Stanley) (ARA 21); ARA "Islas Malvinas" (Falkland Islands) (ARA 24), and ARA "Bahía Agradable" (Bluff Cove) (ARA 24), will be replacing other units decommissioned over the years, according to the official Defense release.
According to the release, the main tasks of the sloops will be, Search and Rescue operations in the maritime area under responsibility of Argentina, as assigned by the International Maritime Organization; Pulling and salvage of sunken vessels and or submarines; contribute to the control of maritime spaces in defense of Argentina's rights and resources in the South Atlantic; logistics support to Argentina's Antarctic bases, and activities along maritime and fluvial coastlines; sanitary support for the community.

Other responsibilities include support for Argentina's scientific and technologic research institutes; scientific support in the so called "Blue Pampa" project, and the Combined National Antarctic Patrol which is shared with the Chilean Navy.
Apparently the vessel with their crews took forty days in arriving to Buenos Aires from Russian delivery.
Argentina's Antarctic operations flagship icebreaker Almirante Irizar suffered a major fire in 2007, while returning from the south pole, and has since undergone a costly and lengthy repair and overhaul, but it still has to complete sea trials. During these years Argentina has contracted the service of Russian icebreakers and heavy duty helicopters in support of its Antarctic bases. In a recent visit of president Cristina Fernandez to meet with Vladimir Putin in Moscow, the deal of the four sloops was confirmed.