"Relations with Britain can't be limited to the Malvinas issue", says Malcorra
Tuesday, December 8th 2015 - 08:40 UTC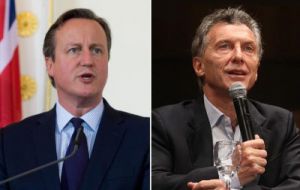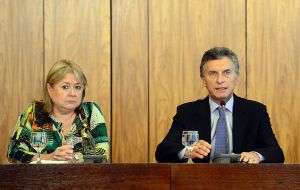 Argentina's next foreign minister Susana Malcorra, who will have the task of reestablishing relations with 'all countries', including those with which there are pending or difficult situations, made it a point to underline British Prime Minister David Cameron's gesture of phoning president elect Mauricio Macri to congratulate him on his victory.
"With Europe we have very positive signals, with Spain and Italy, culture, history is on our side; French president Francois Hollande will be visiting Argentina next February, Germany has promised economic and technologic support and even with Britain, Cameron's gesture of phoning president Macri can only be described as positive", said Malcorra.
Further on she argued that "to believe that relations with Great Britain are limited to the Malvinas issue is to say the least an 'over simplification' of those links. Yes we have an area of dissent which are the Malvinas Islands and we must find a way to address and solve the issue, but this does not mean we have to cancel all dialogue with the United Kingdom. We have areas of common interest where to advance".
"The president (Macri) wants the South Atlantic issue to be addressed globally, because there are many areas of concern and properly dealt can lead to a win-win situation. There is the whole issue of Antarctica. We are not going to deny our claims, but it will be done in the context that this is one of the issues of our relations with the United Kingdom, but it certainly it's not all", pointed out the future minister who until recently was cabinet chief of UN Secretary General Ban-Ki-moon.
However asked specifically about how the new government will address the Falkland Islanders, if 'aggressively' as under president Cristina Fernandez, Malcorra said it was an issue which must be addressed in depth and in a more wider context, "but I'm not going to say so now".
Malcorra added she is not imposing policies, but rather following instructions from president Macri, based on principles such as those Argentina has adhered through history and this because what is signed must be respected. "This leads to basic trust in that Argentina effectively has a state policy and, if you join, you play by the rules".
Likewise "there will not be an ideological approximation to matters in regional or global platforms. All that which serves Argentine interests will be used in a mature way, no antinomies". In other words pragmatism and non ideological.