Brazilian congress joins FIFA investigation; CBF former head will give evidence next week
Thursday, December 10th 2015 - 12:01 UTC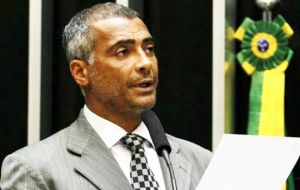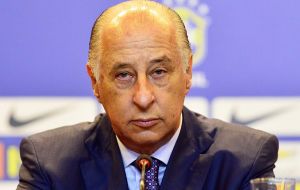 A former head of the Brazilian Football Confederation (CBF) who was indicted in the United States last week in an investigation into corruption in FIFA and the business of soccer, has agreed to give evidence to Brazil's Congress, Senator Romario said on Wednesday.
Romario, a former top goal-scorer for Brazil said on his website that the former official, Marco Polo Del Nero, "has given a commitment that he will appear before the Senate next Wednesday".
CBF could not confirm the information. The Brazilian Senate is leading a congressional inquiry into widespread corruption in the game. Del Nero was charged by U.S. prosecutors with participating in schemes designed to solicit and receive millions of dollars in bribes and kickbacks to sell media and marketing rights for soccer tournaments and matches.
Del Nero's predecessor as CBF president Jose Maria Marin is already in jail awaiting trial on similar charges and Ricardo Teixeira, another former president of the CBF from 1989 to 2012 and a former FIFA executive committee member, was also charged.
All told, 41 people and entities, the majority of them from Latin America, have been arrested or indicted in the FIFA crackdown.
Del Nero took a leave of absence to fight the accusations. Marcus Vicente, the man who is standing in for him, will also speak in front of the committee, Romario said.
A ballot to elect a temporary replacement to lead the CBF would be held next Wednesday, the CBF said. The Congressional inquiry has broad powers of investigation but cannot prosecute. Last week, it approved a measure allowing them access to Del Nero's email and phone records.