Macri's candidate will head the Central bank from the first day; Vanoli resigns
Thursday, December 10th 2015 - 08:22 UTC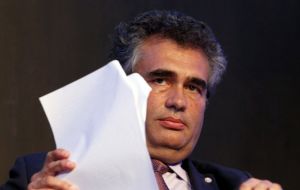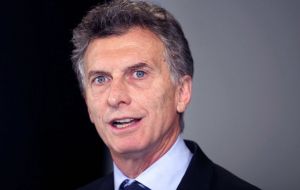 Argentina Central Bank President Alejandro Vanoli resigned Wednesday under pressure from President-elect Mauricio Macri, who plans to remove currency controls with reserves standing at a nine-year low.
In a six-page letter submitted to outgoing President Cristina Fernández a day before Macri assumes power, Vanoli defended his time in office while insisting he never intended to become an impediment to the new government, according to a copy released by the bank.
"I take this decision on the back of the electoral result and after a deep period of reflection, with the serenity of spirit that I feel for having shown and defended my duty to our country and people," Vanoli said in the letter. "It was never my intention to remain in office as an obstacle to the functions of an elected government and nor did I ever conceive of resisting in order to maintain office for personal appetite."
During 13 months at the central bank, Vanoli used a currency swap system with the Chinese Yuan to bolster reserves and maintain a crawling peg. He also used local U.S. dollar futures contracts to damp devaluation expectations. Macri has said Vanoli isn't qualified to hold the post and has nominated Federico Sturzenegger to replace him.
Macri will be sworn in on Dec. 10 and says he plans to let the peso float. With the official rate at 9.7 pesos per dollar and the black market at 14.8 per dollar, the outgoing administration say that he's going to impose a "mega-devaluation" on Argentines and that consumer prices are already rising on expectations.
Vanoli was previously head of the local securities regulator. His last weeks in the post were overshadowed by an opposition probe into alleged "fraud" due to the bank's intervention in the onshore futures market. Vanoli said the charges are political and revealed he had received threatening phone calls.
Sturzenegger, a 49-year-old economist with a doctorate degree from the Massachusetts Institute of Technology, will probably take over. He was president of Banco Ciudad for five years until 2013 and previously taught courses at University of California Los Angeles, Harvard and worked as head economist at energy firm YPF.