Macri pledges an open government, calls for unity and 'the art of agreement'
Friday, December 11th 2015 - 08:00 UTC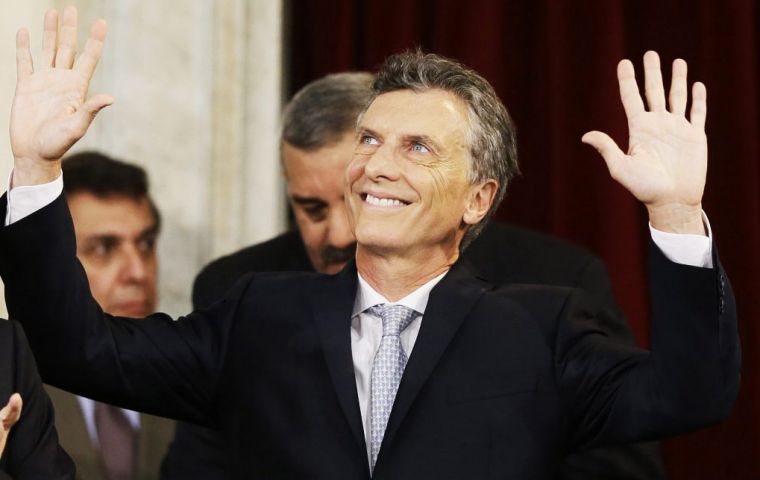 Business friendly Mauricio Macri was sworn in on Thursday as Argentina's new president pledging an open and transparent government and issuing a call for unity among Argentines, leaving aside useless confrontation and arrogance, and putting all emphasis on learning "the art of agreement".
It was an unusual congressional ceremony marked by the absence of his predecessor, Cristina Fernandez and with not all lawmakers present at the General Assembly where he took the oath of office.
"Thanks for being here with us. We have to move forward together, all of us together are building this Argentina," said Macri from one of the balconies of the Government House Casa Rosada, the seat of government, before a huge crowd gathered in the Plaza de Mayo.
Wearing the presidential sash, holding the official baton in his hand and accompanied by his third wife, designer Juliana Awada, and the couple's young daughter, Antonia, the scion of one of the country's leading industrial dynasties said that his team has "a great calling to have Argentines live better."
Alternately exultant and emotional, Macri, even began dancing on the balcony while Vice President Gabriela Michetti launched into a song.
Minutes before that, inside the executive mansion, Macri had received the symbols of office, the crux of an unusual feud that had erupted with Cristina Fernandez a few days prior.
It was a controversy that ended with Fernandez's decision not to attend the inauguration of her successor after the judiciary ruled that her mandate would end at midnight Wednesday, leaving her without the authority to decide the details of the transfer of power.
The judicial ruling led to an unprecedented situation: a provisional presidency of less than 12 hours between the end of Fernandez's term and the beginning of Macri's, a presidency exercised by Senate leader Federico Pinedo, who was the one who ultimately presented the baton and the sash to the new leader.
The outgoing president's attitude was accompanied by a direct instruction for her lawmakers to be absent from Congress during the oath ceremony. Most members of the Lower House from her Victory Front (the single largest group did comply) but this was not the case with the Senate, where allegedly Cristina Fernandez enjoys a clear majority.
A huge crowd in the streets of the capital greeted the new president as he passed by, escorted by a mounted unit of Grenadiers, on his way to his first stop - Congress - where he swore to carry out his duties as president "with loyalty and honesty" for the next four years.
In the congressional chamber and in the viewing gallery, members of Macri's conservative "Let's Change" front, but also members of other political groupings, including the former president's Front for Victory, were divided about his coming to Congress and their solidarity with Fernandez.
There were no boos for the new president, however, and he was interrupted several times by applause during his 25-minute address in which he did not mention any concrete measures and restricted himself to repeating his campaign promises: attaining a zero poverty rate and fighting against drug trafficking and corruption.
To attain these and other objectives, he emphasized, confrontations must be put to the side.
"I call upon everyone to learn the art of agreement ... I want to be the president of integration and cooperation among different sectors, the president of working in a united Argentina on its feet," he said.
Macri said that during the last century society privileged individual leaderships in all walks of life, the search was for geniuses who would solve it all, but this century we've learnt things work out better when we have team work, professionalism, experience and good intentions.
"All along my life, be it in sport or in the eight years as mayor of the City of Buenos Aries I was able to bring together good teams that built concrete solutions for people's problems", underlined Macri, adding this "is the challenge, to make changes we pledged, we need diverse teams, adding different visions of our reality".
"We want everybody's contribution, those who feel they stand on the right, those who feel they stand on the left, the Peronists, the anti-Peronists, the young in the age of transgression and the elder who provide experience, because it is that diversity which enriches us and makes us better".
Further on he admitted "all this can sound incredible after so many years of useless confrontations, but it is an exciting challenge. This was demanded by millions of Argentines fed up of arrogance, abuse and useless confrontation".
Argentina has sectors that think differently, but is not divided, citizens voted as they wished, some supported our vision, others other candidates, and this is good because they were able to chose in freedom.
"But elections are over and the time has come to unite, so we can grow and improve so that the country advances. And the majority of Argentines that voted for our proposal did so based on three main ideas: zero poverty, defeating drugs trade and uniting the Argentines".
Macri also confirmed that the State will look after everybody, "the State will be present where it is necessary, particularly with those that have less".
An irritating issue for Argentines corruption and impunity was also addressed: "I will be implacable with all those from any party or political color, ours or theirs who do not abide by the law. There will be no tolerance for these abusive practices. There's no ideological principle that can justify it. The assets of Argentina belong to all Argentines and not for the incorrect use and abuse of its employees."
Macri had a strong support message for the Judiciary branch: "in these years it was a stronghold of democracy impeding the country from falling into irreversible authoritarianism. In our government where will be no "macrista" magistrates. There is no justice nor democracy without an independent justice system, but we must accompany Justice in a process that helps clean the political vices: there can't be any militant judges from any party".
Almost 50 foreign delegations were in Buenos Aires on Thursday attending different events associated with Macri's inauguration.
Among the visitors were King Emeritus Juan Carlos of Spain and Presidents Michelle Bachelet of Chile, Rafael Correa of Ecuador, Juan Manuel Santos of Colombia, Evo Morales of Bolivia, Dilma Rousseff of Brazil, Tabare Vazquez of Uruguay, Ollanta Humala of Peru and Horacio Cartes of Paraguay