Macri meets with governors to talk about creating jobs, but not in the public sector
Monday, December 14th 2015 - 08:23 UTC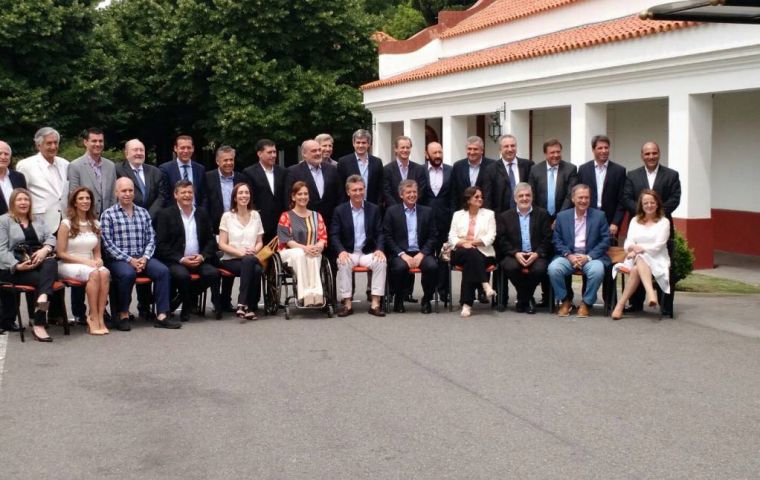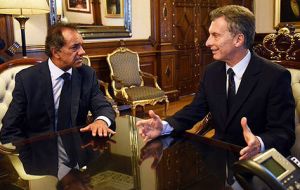 Argentina's new president Mauricio Macri met with governors on Saturday in another major change of tone from his predecessor Cristina Fernandez' confrontational style.
Macri was sworn in as Argentina's new president Thursday, turning the page on twelve years under couple Nestor and Cristina Kirchner. The outgoing president was famous for her harsh treatment of foes. Their pro-poor, pro-working-class policies endeared them to a loyal following among many voters.
Macri, a conservative businessman, marks the start of a new era for Argentina. He welcomed the leaders of 24 jurisdictions to the Olivos presidential residence, looking for common ground.
"I think that we all agree on the need to create jobs," Macri said.
"There is a consensus that in the (24) provinces the only growth area has been in public sector jobs. And that has helped bring many of the provinces into bankruptcy," Macri said.
In an interesting twist, one of the governors he met was a Kirchner -- Alicia Kirchner, the sister of Nestor Kirchner, who now leads Santa Cruz province in the Patagonia region. Media reports had anticipated she would not be attending. However since in Argentina the Executive is responsible for the distribution of federal funds to the provinces, a very controversial political issue, it would be hard to believe Alicia would not turn up.
On Friday the day after taking office, Macri invited to Government House all presidential candidates who competed with him in the two round presidential election, including his main contender, the incumbent Daniel Scioli. Following private meetings with each of the visiting politician leaders, they met the media and all had positive comments on the unusual event.
With Latin America's third-largest economy now slumping back toward recession, Macri's calls for change propelled him to a come-from-behind win in the run-off election on November 22 against Cristina Fernandez chosen successor, Daniel Scioli.
He has vowed to end protectionist import restrictions, cut heavy taxes on agricultural exports and scrap the official exchange rate puffing up the Argentine peso.
The son of a wealthy businessman, Macri rose to fame as the president of Argentina's most popular football club, Boca Juniors, during a storied string of trophy wins. The twice-divorced father of four, who is married to a former model turned businesswoman, had been Buenos Aires mayor since 2007.