Atlantic Patrol Tasking HMS Lancaster in Gibraltar
Wednesday, December 16th 2015 - 08:05 UTC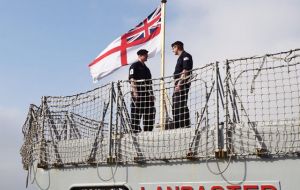 HMS Lancaster, a type 23 Frigate is in Gibraltar for a few days to top up on fuel and supplies and allow its crew some rest and recuperation. HMS Lancaster recently completed a 9-month deployment to the South Atlantic where she conducted Atlantic Patrol Tasking, and made over 23 port visits in 18 countries.
A Presentation of Awards ceremony was held on board, with a Long Service and Good Conduct Medal, Naval Base Commander's Commendation and five Efficiency Awards handed out to a number of crew members.
HMS Lancaster is the first ship to deploy with the Royal Navy's newest helicopter, the Wildcat. Like its predecessor, the Lynx, the Wildcat can be used in a variety of roles including anti-ship and anti-submarine protection, casualty evacuation, battlefield reconnaissance and as a general utility helicopter.
The nine month deployment saw HMS Lancaster cross the North Atlantic across to America, through the Caribbean, stopping in Bermuda and then advanced to New Orleans where the crew joined in the notorious Fleet Week celebrations.
From there HMS Lancaster went through the Panama Canal and down the west coast of South America taking in Columbia and Chile, sailing around the Cape Hope and back across the Atlantic stopping off at the Falkland Islands, South Georgia and Tristan de Cunha, before reaching South Africa.
Leaving South Africa HMS Lancaster travelled up the west coast of Africa calling at Angola, Nigeria, Ghana, Togo, Sierra Leone, Cape Verde Islands before crossing into Algeria and finally towards the Rock.
When HMS Lancaster arrives back in the UK it will first dock in Plymouth where family members will join the ship's company onboard and to the final destination of Portsmouth.
She will then go into what is known as reduced readiness for the next year to 18 months she will be in maintenance and will come out of that fully by the end of 2017, complete with new equipment she will be ready to take to the seas once again.