Brazilian Lower house speaker closer to losing his job than embattled Rousseff
Wednesday, December 16th 2015 - 07:11 UTC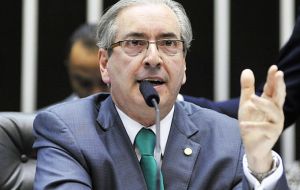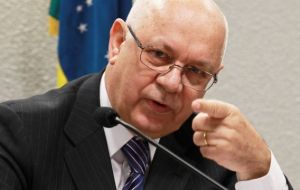 Brazilian federal police searched the home of lower house speaker Eduardo Cunha on Tuesday as part of a series of anti-graft raids against senior political figures, dealing a blow to the man who opened President Dilma Rousseff's impeachment proceedings.
Hours after the raids, Cunha suffered another setback when the house Ethics committee voted to investigate him for hiding Swiss bank accounts, further eroding his standing.
The raids and the ethics case are expected to weaken a bid to unseat Rousseff that Cunha triggered this month in Congress as they reduce his sway over the divided Brazilian Democratic Movement Party (PMDB), a fragile ally with crucial votes in the impeachment process.
"This is good for Dilma. It further undermines the legitimacy of an impeachment process led by Cunha," said Leonardo Barreto, a Brasilia-based political analyst.
Police said the raids on Cunha's homes in Brasilia and Rio de Janeiro were among 53 search-and-seizures carried out in the widening investigation into kick-backs on contracts at state oil company Petrobras.
Most of the targets of the raids belong to the PMDB, Brazil's largest political party whose leader Michel Temer is Rousseff's vice president and stands to take over if she is impeached.
The political crisis and uncertainty over its outcome have slowed the passage of fiscal austerity measures in Congress and made a second downgrade to junk in Brazil's credit rating look certain early next year.
Cunha, who has been charged with taking bribes, launched the impeachment against Rousseff on 2 December based on an opposition allegation that she broke Brazil's budget law to increase spending during her re-election campaign last year.
A defiant Cunha said he was "absolutely innocent" and had no intention of resigning as speaker after police searched his Brasilia residence, obliged him to open the safe and seized documents and laptops.
"I am not worried in the least," he told reporters, calling on his party to hasten its break with Rousseff's Workers' Party ahead of a planned PMDB presidential candidacy in 2018.
The early morning raids also targeted the residences of Science Minister Celso Pansera, a close ally of Cunha, and Tourism Minister Henrique Eduardo Alves, a former parliamentary speaker and confidant of Temer.
The homes of ex-Mining and Energy Minister Edison Lobão and Lower House lawmaker Anibal Gomes were also searched. The office of Brazil's top prosecutor said a total of nine politicians were targeted with searches, as were PMDB headquarters in Alagoas state, the power base of another party leader, Senate President Renan Calheiros.
The raids are likely to reinforce calls in Congress for Cunha's resignation, especially after the ethics committee voted by 11-9 to investigate the speaker for lying to a congressional hearing on corruption when asked if he held bank accounts abroad. Swiss authorities later located accounts in his name in Switzerland.
Cunha's lawyer said the raids showed police lacked evidence against his client. Police said Supreme Federal Court Justice Teori Zavascki gave the go-ahead for the searches.
Supreme Court justices will meet on Wednesday to define the rules of the impeachment proceedings, which are expected to be a source of political wrangling for months even as Brazil sinks deeper into recession.
Cunha was charged in August with graft and money-laundering, becoming the first sitting politician to face prosecution from the probe known as Operation Car Wash.
He unilaterally declared himself in opposition to Rousseff's coalition in July and has put the brakes on the administration's efforts to ease Brazil's swelling fiscal shortfall by spurring the passage of bills ramping up spending.
Many Brazilians are less upset about Rousseff's alleged budget violations than the deepening economic downturn and graft scandal at Petrobras that has discredited the political class.
Rousseff is not under investigation, but many question how she could not have known about the corruption as she chaired Petrobras from 2003 to 2010. Rousseff has denied any knowledge of the alleged graft and has called for a full investigation.
This past weekend, tens of thousands of protestors took to the streets to call for Rousseff's impeachment, with the Petrobras scandal and poor economic performance adding fuel to the fire.
However, the number was lower than the more than 100,000 protestors calling for Rousseff's resignation in August, suggesting the momentum driving the impeachment process may be starting to wane, or the coming end of year festivities and summer in the southern hemisphere has Brazilians concentrated on other issues.