Close friend of Lula da Silva formally charged in the Petrobras corruption case
Saturday, December 19th 2015 - 02:40 UTC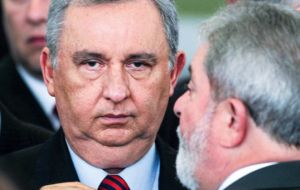 The sprawling Petrobras corruption scandal web is again close to former president Lula da Silva, this landowner Jose Carlos Bumlai, arrested during Operation Lava Jato, was charged with corruption, money laundering and fraud.
Allegedly Bumlai was an active member in the Petrobras corruption scheme and was involved in the transfer of funds to the ruling Workers' Party (PT).
"He was a PT agent," said federal prosecutor Deltan Dallagnol, who heads the Lava Jato taskforce.
A close friend of former president Lula da Silva, Bumlai allegedly obtained R$12 million (US$3.1 million) from the bank Schahin, in 2004, which was then transferred to political figures connected to the PT.
According to prosecutors, the loan, which was obtained "without real guarantees", and with the intervention of the then PT treasurer, Delúbio Soares, and Lula's former chief-of-staff José Dirceu, was never repaid.
Instead, Bumlai allegedly made an agreement with Schahin, which is active in the engineering sector, in which the bank forgave the debt in return for a US$1.6 billion dollar-contract with Petrobras for a drilling operation in 2009.
As well as Bumlai, another ten people were charged, including Bumlai's son and daughter-in-law, three Schahin executives, former Petrobras managers and directors, former PT treasurer João Vaccari Neto and the lobbyist Fernando Soares, known as "o Baiano".
Lula da Silva, however, has not been charged with any crime. Prosecutors say there is no concrete evidence that he was involved in the deal, and not even Soares has admitted the former president was aware of the deal.