Chile calls for a South American convergence; pledges to bring together Mercosur and Pacific Alliance
Tuesday, December 22nd 2015 - 15:29 UTC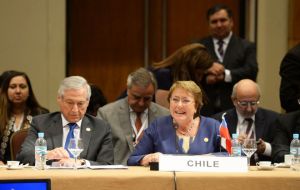 Chilean president Michelle Bachelet called for "a convergence among governments" of South America despite the "political and ideological differences", and anticipated that Chile will strongly promote the rapprochement between Mercosur and the Pacific Alliance.
"We understand that in the region there are political differences and of economic organization and we believe that convergence is indispensable to advance in several issues", said Bachelet during the Monday Mercosur presidential summit held in Paraguay.
Bachelet whose country Chile is an associate member of Mercosur also asked her peers to agree on a date for an accord between Mercosur and the Pacific Alliance, made up of Chile, Peru, Colombia and Mexico, and although with a few years have advanced further and faster that the Atlantic group in 25 years.
The president underlined that Chile "has always believed in integration and open markets. For Chile, belonging to this block and the opening of the economy have been essential to help combat poverty".
Then she revealed that "since its beginnings the economic and trade Mercosur have benefited Chile quite a bit; 48% of Chile's foreign investment is in countries belonging to Mercosur and the group is the main market for Chilean manufactured goods".
"Mercosur is my country's fourth trade partner in importance" stated Bachelet who also underlined that Mercosur needs to improve its international standing "so as to be listened and taken into account".