An economist and professional diplomat next Argentine ambassador in London
Wednesday, December 23rd 2015 - 09:30 UTC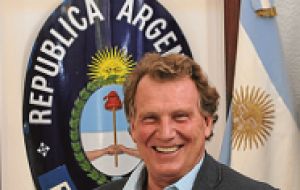 The Argentine government announced that it was nominating Carlos Sersale di Cerisano and Jorge Faurie, professional diplomats as next ambassadors in London and Paris. Both have long diplomatic careers and are considered very efficient and knowledgeable in international relations and global trade.
Faurie was protocol chief during the government of former president Carlos Menem and also ambassador in Portugal. The next ambassador in France was deputy minister for Carlos Ruckauf (2002/03) and has now been tasked with organizing the official visit of French president Francois Hollande who is scheduled to arrive in Argentina next February to meet with president Mauricio Macri.
Sersale di Cerisano, who will have the challenging task of the Falklands/Malvinas issue when he arrives in London, joined the Argentine diplomatic service in 1979 following an opposition and merit test. His latest job was ambassador in South Africa where he was a respected figure with easy access to Pretoria ministers.
"After almost 10 years, and a third of my professional career, it's time to leave," the diplomat told South Africa's leading Financial Mail before his departure last October. "But SA is a part of my mind now and whatever I do, I will always be a good representative of this country."
An economist by training, Sersale di Cerisano worked in the private sector as a financial consultant before becoming a diplomat and as such spent time in Rome as Argentine representative at FAO. He was later relocated to UN headquarters in New York, where he also worked for the international organization. Between 2000 and 2005 he returned home to Buenos Aires and then requested a posting in South Africa.
According to his official résumé, ambassador Sersale di Cerisano has taught economics in Argentine universities, has written books in English and Spanish on international economic relations. He graduated from the University of Buenos Aires, has an MIA from Columbia University in New York and a PhD from Universidad del Salvador in Buenos Aires. He is fluent in English, French and Italian.
Argentina's last ambassador in London was Alicia Castro, a former stewardesses' union leader and very close to Cristina Fernandez. While in London she led a very aggressive and standing campaign in support of Argentina's claims over the Falklands/Malvinas.