Busy weekend for Ushuaia: 8.000 cruise visitors
Wednesday, December 30th 2015 - 02:22 UTC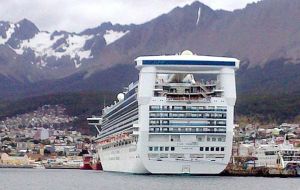 Over 8.000 cruise visitors arrived in Ushuaia over the weekend when the Star Princess (2.600 pax), Norwegian Sun (2.400 pax), Infinity (2.400 pax) and the Seabourn Quest coincided in the extreme south port of Argentina in the peak of the Southern hemisphere season.
"All the vessels that visited us over the weekend, except for the National Geographic Orion are luxurious, and make pendular trips from Valparaiso to the River Plate, and they chose to dock and spend a day at the world's most austral city", said Luis Castelli head of the Tierra del Fuego Tourism Institute.
The Norwegian Sun arrived from Valparaiso with final destination Buenos Aires, and before calling at Ushuaia visited the Chilean fiords. The Star Princess also came from Valparaiso and is heading for Buenos Aires visiting Cape Horn. Celebrity Infinity also from Valparaíso is sailing for Puerto Madryn and Punta del Este, in Uruguay.
The Seabourn Quest from Valparaíso visited Chilean fiords and Punta Arenas before docking in Ushuaia. Finally the National Geographic Orion which calls in the End of the World before sailing for Antarctica.