Two ex ministers with prison sentences for Buenos Aires train accident that killed 51 and injured 789
Wednesday, December 30th 2015 - 14:10 UTC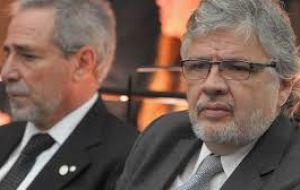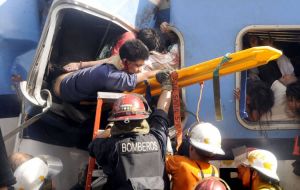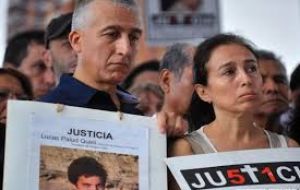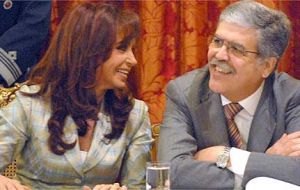 An Argentine court handed down prison sentences of up to nine years for those charged in the February 2012 train accident in Buenos Aires that killed 51 people and injured more than 700.
Former federal transportation secretaries Ricardo Jaime, who served from 2003-2008, and Juan Pablo Schiavi, in office from 2008-2012, were sentenced, respectively, to six and eight years in prison.
Claudio Cirigliano, the head of the Trenes de Buenos Aires firm, which had the concession to operate the line on which the crash occurred, was sentenced to nine years behind bars. His brother Mario Cirigliano, was acquitted.
The court also sentenced engineer Marcos Cordoba to three-and-a-half years in prison. He was at the controls of the train with 1.200 passengers on board, that crashed into a platform at the Once station, the head station on a crowded rail line connecting the Argentine capital with the western part of Buenos Aires province.
Various other state officials and transport entrepreneurs were also sentenced for crimes including negligence and mismanagement.
As well as the 51 people killed, 789 were injured in the crash in February 2012. The disaster prompted then president Cristina Fernandez to nationalize and modernize Argentina's rail network.
The court said it would release full details of the ruling in 2016.
The court concluded that TBA was providing service with "serious deficiencies" on the rail line and that the transportation officials had not taken any measures to correct them.
Relatives of the victims who had gathered outside the court house cried and applauded half heartedly the ruling, arguing, to their surprise, justice was finally done in Argentina, but at the same time complained sentences were too light, given the number of dead and injured in one of the country's most tragic railway accidents.
The ruling also asked for further testimonies to investigate if there was responsibility in the accident of former Planning Minister Julio De Vido, one of Cristina Fernandez closest associates. De Vido has been with the Kirchner couple since they started their political career in Santa Cruz province and the capital Rio Gallegos.
His name keeps cropping up in most claims of alleged corruption or mishandling of government funds during the twelve years of Kirchnerism, first under Nestor Kirchner and later during the eight years of Cristina Fernandez.