Switzerland hands bank documents from FIFA corruption to US prosecutors
Thursday, December 31st 2015 - 08:22 UTC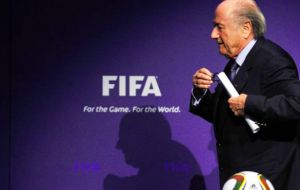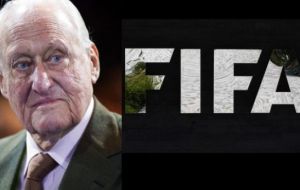 Swiss authorities have handed over the first round of bank documents seized in their FIFA corruption investigation to U.S. prosecutors on Wednesday. The Federal Office of Justice in Switzerland says the documents relate to "bank accounts allegedly used for bribes connected with the grant of marketing rights to soccer tournaments in Latin America and the USA."
Information regarding 50 accounts from 10 different banks was given to U.S. authorities, each suspected of being used to route bribes to FIFA officials.
Swiss authorities also froze $80 million of assets in 13 bank accounts related to the investigation. The assets will remain frozen until criminal proceedings conclude.
The FOJ says "US authorities can apply to have these assets handed over if they have a legally valid and enforceable seizure ruling from a US court."
The U.S. is now requesting more information relating to criminal proceedings against FIFA officials that were suspended in 2010 regarding sports marketing company ISL. ISL fell into criminal bankruptcy in 2001 and is alleged to have bribed FIFA officials including former president Joao Havelange. The U.S. believes the information will make a significant impact on its investigation.
The U.S. Department of Justice has already indicted 41 high-ranking former FIFA officials and sports marketing executives in its investigation into FIFA corruption, with more likely to follow.
Four of the nine FIFA officials arrested in Switzerland in May have already been extradited to the U.S. with Jeffrey Webb, Jose Marin and Juan Napout requesting to simplify proceedings. Eduardo Li withdrew his extradition appeal and was sent to the U.S. Dec. 18. Julio Rocha, Costas Takkas, Rafeal Esquivel and Alfredo Hawit continue to oppose their extradition according to the FOJ.