Falkland Oil & Gas closer to completing merger with Rockhopper Exploration
Wednesday, January 6th 2016 - 12:02 UTC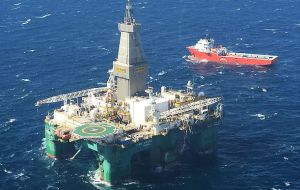 Falkland Oil and Gas PLC late Tuesday took a step closer to completing the proposed all-share merger with fellow AIM-listed Rockhopper Exploration PLC after its shareholders voted in favour of the deal.
According to London financial media the two companies are already part of a joint venture with Premier Oil PLC working offshore the Falkland Islands, and announced the proposed merger back in November as they attempt to create a company that can dominate the area's hydrocarbon resources.
The deal will comprise 0.2993 Rockhopper shares for every one FOGL share, which at the time valued FOGL at around GBP57.1 million. However, both companies have seen their share prices fall since proposing the merger.
FOGL shares closed down 0.6% to 7.95 pence per share on Tuesday, giving it a market capitalisation of around GBP42.5 million, whilst Rockhopper shares closed down 7.1% to 26.0 pence to give the company a market capitalisation of GBP79.5 million.
To put that into perspective, FOGL shares closed at 9.60p the day before the merger was announced, with Rockhopper shares closing at 35.43 pence.
The all-share merger is being conducted through a court-sanctioned scheme of arrangement, and on Tuesday FOGL confirmed that the outcome of both the court meeting and general meeting supported the deal.
FOGL said 1,866 of the 1,906 shareholders who voted at the court meeting approved the deal, with the votes cast at the general meeting also held Tuesday yielding similar results.
In order for the scheme to become effective, the court will now need to sanction the scheme and a court hearing has been scheduled for January 15, which if sanctioned would lead to the scheme becoming effective on January 18, said FOGL.
Following the implementation of the merger, Rockhopper's executive management team will remain in place, with FOGL's Tim Bushell and Chairman John Martin to join the board of the combined company as non-executive directors.