Uruguay's 2016 Antarctic campaign takes off; ship to deliver 250 tons of fuel and 40 tons of supplies
Thursday, January 7th 2016 - 09:27 UTC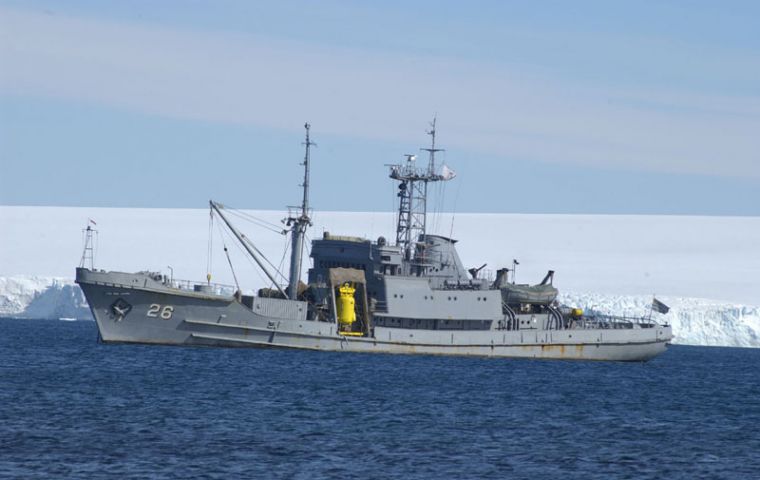 Uruguayan navy rescue vessel ROU 26 "Vanguardia" left this week from Montevideo for Antarctica loaded with fuel and provisions for the country's scientific base "General Artigas" at King George Island.
The vessel routinely supplies Uruguay's presence in Antarctica at the beginning of the annual campaign, and this time is transporting 250.000 liters of gasoil, plus 40 tons of provisions for the staff at the base which in summer months jumps close to seventy.
According to the Uruguayan Antarctic Institute, 'Vanguardia' has on board 72 people including crew members and scientists, and the large of supply of fuel is linked to the new depots at the base.
The depots have been built according to the Marine pollution contingency and prevention plan in the framework of the Protocol for the protection of Antarctica environment, which also includes procedures to unload and land transport of the fuel. 'Vanguardia' is also scheduled to collect all the garbage and disposal material from the base that is to be shipped back to Uruguay, in line with rules from the Antarctic Treaty of which Uruguay is a full member.
The Uruguayan navy vessel which is expected to spend almost two months in Antarctic waters before returning, will also be complying with recommendations from CCLMAR, Convention for the Conservation of Living Marine Antarctic Resources which means looking out for possible cases of illegal, unregulated and undeclared fishing in Antarctica marine ecosystems.
Uruguay is a member of the Antarctica Treaty since 1980, and set up its scientific base in 1984. The country has a smaller station, operational in summer.