Rousseff vows 'fiscal belt-tightening' but 'there's no rabbit in the hat' for the current situation
Friday, January 8th 2016 - 11:51 UTC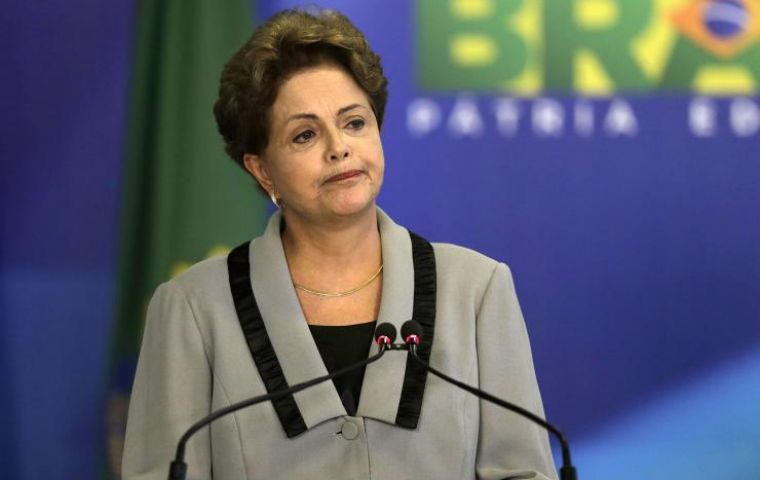 Brazilian president Dilma Rousseff vowed Thursday that her administration would strive for fiscal belt-tightening and look to keep inflation in check in 2016, saying achieving those goals would help lift the economy out of recession.
"There's no rabbit in the hat for dealing with the current situation. We need macroeconomic stability, which means both fiscal rebalancing and inflation control, to grow again," Rousseff said at a breakfast with local media.
The government will aim to finish 2016 with a primary budget surplus (before interest payments) equivalent to 0.5% of GDP and an inflation rate near the ceiling of the government's tolerance range of between 2.5% and 6.5%, she said.
Rousseff administration's fiscal rebalancing program will include efforts to overhaul the country's costly pension system and to boost revenue through tax code changes. "We cannot have the average retirement age be 55 years old," she said.
Likewise the president underlined that planned incentives for investments in airports, ports, roads, railways and the electricity system would help spur growth.
She also said measures would be taken to promote exports, which have already been boosted in terms of volume by the sharp (50%) depreciation of the real.
Brazil finished 2015 with an economic contraction of 3.71%, an inflation rate of 10.72% and a record budget deficit, analysts estimated earlier this week.
If those estimates prove accurate, it would mean that Latin America's largest economy suffered its worst contraction since 1990, when it shrank 4.35%, and posted its highest inflation rate of the past 13 years. Analysts are forecasting that Brazil's economy will improve slightly this year but still expect it to contract by around 3%.
Rousseff acknowledged that the recession and end of the commodity boom caused a sharp drop in the country's tax take and knocked the country's public accounts out of balance.
"The priority is the fiscal rebalancing of the country. We systematically lost revenue because of the drop in the tax take and weren't able to balance our accounts even with the big spending cuts we carried out," the president said.
Rousseff also admitted that "the biggest mistake was failing to see that the crisis was so big in 2014, failing to gauge the magnitude of the economic slowdown due to internal and external problems".
Besides the deepening economic recession, the Brazilian president approval rating has slipped to single digits as she faces calls for impeachment over a public financing scandal.