Messi undisputed king of the 'beautiful game': fifth Ballon d'Or
Tuesday, January 12th 2016 - 07:10 UTC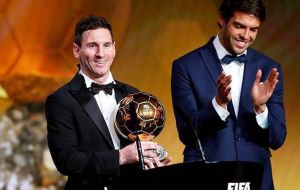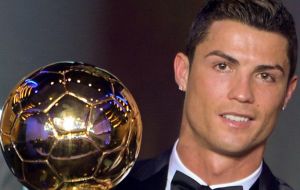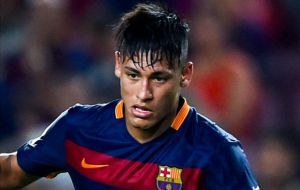 Lionel Messi reclaimed the FIFA Ballon d'Or award for the world player of the year on Monday, after watching his great rival Cristiano Ronaldo walk off with the prize for the previous two years. The Argentine Barcelona forward finished ahead of Ronaldo and Brazil forward Neymar as he scooped the award for a record fifth time overall, having previously won it four years in a row from 2009 to 2012.
Messi helped Barcelona win a Spanish league cup and Champions League treble plus the Club World Cup and also led Argentina to the Copa America final, where they lost to Chile.
"It's incredible, much more than anything I dreamed of as a kid," said Messi as he received the award. "I want to thank my team mates, without them none of this would have been possible."
Barcelona's Luis Enrique was voted coach of the year.
United States World Cup winner Carli Lloyd, who scored a hat-trick in the final against Japan, was named women's player of the year.
Ronaldo ended last season trophy-less with Real Madrid although he helped Portugal qualify for Euro 2016.
Neymar won a treble alongside Messi at Barcelona but had less happy time with Brazil, receiving a four-match international ban after he was sent off during the Copa America.
The ceremony, at the Zurich Kongresshaus theatre, was held against the backdrop of FIFA going through the worst corruption crisis since it was founded in 1904.
The sport is facing criminal investigations in both Switzerland and the United States, where some leading FIFA officials are among 41 individuals and sports entities who have been indicted on corruption charges.
Outgoing FIFA president Sepp Blatter, normally a central figure at the ceremony, was not involved after being banned for eight years by the Ethics Committee in December.
There was no President's Award, traditionally awarded for outstanding services to the game.
Blatter was replaced by acting president Issa Hayatou who played a low-key role, reading a brief speech before the start of the ceremony and appeared on the stage when the awards for best player and women's player were presented.