Brazil agribusiness exports, the locomotive of foreign trade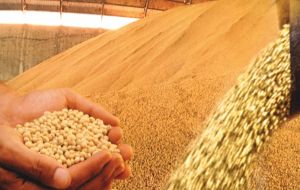 Brazil's total agricultural exports slid 8.8% to US$88.2 billion in 2015, compared to the previous year, despite record sales of soybeans, corn, chicken, coffee and cellulose, officials said. The drop in sales was caused by falling prices for the commodities Brazil sells on the global market, Foreign Agribusiness Relations Secretary Tatiana Palermo said.
High levels of exports, which were the biggest since 1997, and the rise in the value of the U.S. dollar prevented a greater drop in agricultural exports, Palermo said.
The 54.3 million tons of soybeans; 28.9 million tons of corn; 11.9 million tons of cellulose and the 2 million tons of coffee accounted for the biggest chunk of commodity exports.
"The decline was much lower than that [registered] in other sectors [which make up the Brazilian export agenda]. We reduced the decline of the trade balance as a whole and we're also able to register a surplus in very difficult [economic] times," said Palermo.
The official stated that despite the decline in exported value, the participation of the agribusiness sector in the Brazilian trade balance increased from 43% in 2014 to 46.2%, the largest ever registered by the Agriculture Ministry.
Brazil's agribusiness trade registered a surplus of $75.1 million in 2015, down 6.24% from the previous year, when the surplus totaled $80.1 million.