Guatemalan president Morales tells the military he wants "justice, not revenge"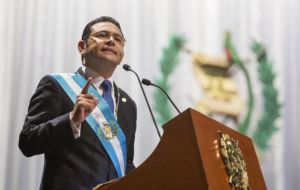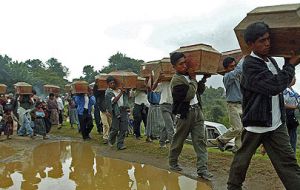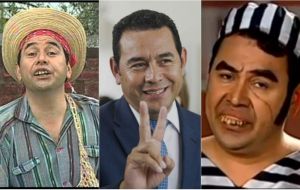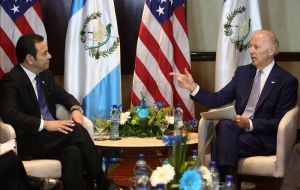 Guatemala's new president, Jimmy Morales, said on Friday he wants "justice, not revenge" in reference to ex-army personnel accused of atrocities during his country's 1960-1996 civil war. Following an armed forces ceremony recognizing him as commander-in-chief just one day after he was sworn in, Morales added that he did not want to see action that would "prejudice" the country's values.
"What I want, as do all Guatemalans, is that justice be done -- but justice, not revenge," he said, answering questions by reporters.
Eighteen retired soldiers were detained last week on accusations of participation in massacres of indigenous people and in the disappearance of a boy during the civil war. Among them figure Benedicto Lucas Garcia, the armed forces chief during the 1978-1982 presidency of his brother Fernando Romeo Lucas Garcia, who ruled over the darkest years of the conflict.
A lawmaker who helped found Morales' party, former officer Edgar Ovalle, is also implicated in the atrocities. Prosecutors have asked that his parliamentary immunity be lifted so he can face charges.
Guatemala's long civil war resulted in 200,000 people killed or registered as missing, according to the United Nations, which attributed more than 90 percent of the atrocities committed to the armed forces.
During the military ceremony Friday, Morales announced that he was giving the army the task of rebuilding 8,000 kilometers of roads in rural parts of the country. The decision cuts out private contractors that had traditionally been given funds to carry out such work.
Morales is a former television comedian with no political experience who was sworn in as Guatemala's president on Thursday after easily winning the top office in October following a major corruption scandal that toppled the country's last leader and fueled voter outrage with the political establishment.
The inauguration ceremony included US Vice President Joe Biden, and the presidents of Mexico, Ecuador and most Central American nations, and Spain's former king Juan Carlos.
"Not tolerating corruption or theft, that is something we can do and what we are going to do from the first day," Morales, as he accepted the presidential sash.
Yet his political support is weak, with his conservative party holding just 11 seats in the 158-seat Congress. No members from his party sit on the incoming congressional steering committee, and an opposition figure was chosen to be the new speaker in congress.
Ahead of the swearing-in, Biden met with Morales to congratulate him for vowing to fight corruption in his nation of 16 million people. He also stressed that Guatemala should attract more investment to counter emigration.
Morales asked for Guatemalan migrants in the US to be given "temporary protected status" that would preclude them being deported. Biden said he would analyze the proposal.
Most Guatemalans view Morales with fondness as a familiar figure from his 15-year television career on a program he produced. His brother Sammy Morales who co-produced the show told a web magazine, Nomada, asserted Jimmy was prepared "academically, emotionally and spiritually" to take on his new role.
According to his official biography, Jimmy Morales, an Evangelical Christian, has a university degree in business administration, a masters in media and communication and another in strategic studies with a specialization in security and defense.