St Helena and its new airport get ready for tourism take-off
Saturday, January 16th 2016 - 10:05 UTC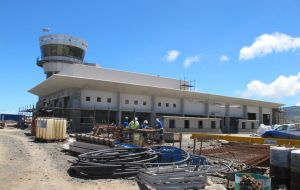 The Guardian Weekly has published a piece on prospects for St Helena with the opening of its international airport, most probably next May, and which is expected to turn the mid Atlantic's island economy, particularly with tourism, since none less that Napoleon Bonaparte spent his last years until his death, almost two centuries ago.
Francois Bostnavaron describes the island which will now be a six hours flight from Cape Town, South Africa and has been picked by Lonely Planet as one of its featured destinations for 2016. If as estimated 30.000 visitors are attracted for a peregrination to where the great French general lived and was buried, St Helena could even become financially self sufficient.
"On 15 September last year, a Beechcraft Super King Air 200 touched down on St Helena. The flight, from Lanseria international airport, about 50km south of Johannesburg, passed over Namibia, Angola and the Atlantic Ocean. These days, an aircraft landing on an island is hardly news, but it is on St Helena. The island is one of the most isolated places in the world.
"This "rock-bound catafalque", as Chateaubriand described it, lies about 1,950km from the south-western coast of Africa and nearly 2,900km in the opposite direction from South America. Until now it has been served only by ships, hailing either from Cape Town after a five-day voyage, or Ascension Island, some 1,200km away.
"An airport, which will put St Helena only six hours from the mainland, represents a big upheaval for the 4,200 islanders. The British Overseas Territory (which combines St Helena, Ascension and Tristan da Cunha) currently attracts around 1,500 visitors a year. Thanks to the new airport it hopes to become a more popular destination. Cathy Alberts, head of St Helena Tourism, is upbeat. If the forecasted 30,000 visitors a year materialize, the island, currently subsidized by UK taxpayers, could become self-sufficient.
"The airport should be fully operational by May, with weekly flights from Johannesburg. But the rest of the island's infrastructure, in particular its roads, is not yet ready for such an influx. Accommodation and restaurants will also have to gear up. Lonely Planet has nevertheless picked the island as one of its featured destinations for 2016.
"Until the airport officially opens you can always take the St Helena, the last working Royal Mail ship to provide a regular service from Cape Town. But the price of passage (starting at around $900) is likely to rise steeply as the scheduled date for the vessel's retirement, in July, approaches.
"So now that you can get to the island, what are its attractions? Certainly not beaches or coconut trees, but there is Napoleon Bonaparte, who was taken here in 1815 after his final defeat at Waterloo. It was so isolated that there seemed little chance of him escaping, as he had done from Elba.
"Coinciding with the bicentenary of the battle, work refurbishing Longwood House, where Bonaparte lived, was completed last year. On 15 October, the restored generals' wing opened, thanks to an international appeal organized, among others, by the Fondation Napoleon. It raised €1.5m, to which the French foreign ministry contributed a further €700,000. After three years' work, the buildings look as good as new.
"Thierry Lentz, head of Fondation Napoleon, is convinced air access will boost the number of visitors. "Up until now the territory has attracted about 6,000 visitors a year [including day-trippers], sometimes 600 to 800 a day, mainly people on cruises," he says. "Here on St Helena there is a promising future for holidays hinging on Napoleon, certainly up to 2021, the bicentenary of the emperor's death."
"Three areas are open to the public, starting with Briars Pavilion, where Bonaparte lodged at the start of his exile, from October to December 1815. He then moved to Longwood House, where many rooms have been restored to their state on 5 May 1821, the day of his death. The last place to visit is his grave in Geranium Valley. No inscription marks the spot because the French and British failed to reach agreement on whether it should read "Napoleon" or "General Bonaparte".
"One last detail that may interest visitors: progress often coming in bursts, there is now a mobile phone service on St Helena".