Labor leader calls for "accommodation" on the Falklands issue with Argentina
Monday, January 18th 2016 - 09:07 UTC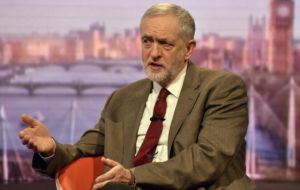 British Labor leader and head of the opposition Jeremy Corbyn has called for "accommodation" with Argentina in the Falkland Islands, and anticipated that any discussions over the future of the Islands should give inhabitants an "enormous say", but stopped short of giving them a veto.
Speaking at BBC1's The Andrew Marr Show, Corbyn argued that "it seems to me ridiculous that in the 21st century we'd be getting into some enormous conflict with Argentina about the Islands just off its mainland".
"I think there has to be a discussion about how you can bring about some reasonable accommodation with Argentina.
"Of course the islanders have an enormous say in this. "They have got a right to decide on their own future and that will be part of it."
Mr Corbyn also faced a backlash from all sides after he floated the idea of retaining Britain's nuclear submarines, minus their missiles. In the wide ranging interview with The Andrew Marr Show, the staunch peace protestor reaffirmed his opposition to nuclear weapons.
The left-leaning MP appeared to try and satisfy the different views within his own party on the contentious issue of Trident.
It was an apparent nod to the trade unions, who fear tens of thousands of defense jobs could be lost if the nuclear program was scrapped altogether. "There don't have to be nuclear warheads on them"
He said: "I recognize the party has an existing policy which is not the same as [mine]. I will obviously try and accommodate opinion within the parliamentary party. My views on nuclear weapons are well known and not changing. I want to see us move to a nuclear-free world".
"There don't have to be nuclear warheads on them [Trident submarines]. There are options there."
The 'Japanese model' was suggested by shadow defense secretary Emily Thornberry, which is retaining the ability the build nukes without actually possessing any.
But keeping a fleet of nuclear submarines without their warheads was met with ridicule by cross-party MPs.
John Woodcock, MP for Barrow and Furness, called the whole idea "implausible".
He added: "Having a deterrent that has no ability to deter because it has no missiles is like having an army with broke rifles and no ammunition."
Defense secretary Michael Fallon went one step further, branding Labor a "threat to national security".
Following Mr. Corbyn's comments he said: "Labor would weaken Britain's defenses by having a nuclear deterrent without any nuclear weapons."