Falklands oil explorers Rockhopper Exploration and FOGL completed merger
Tuesday, January 19th 2016 - 08:06 UTC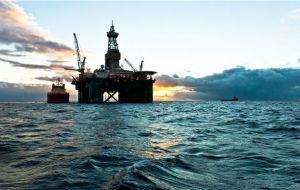 Two leading firms in Falkland Islands offshore oil exploration have completed their merger, it was announced on Monday.
The UK-based companies, Falkland Oil and Gas (FOGL) and Rockhopper Exploration, had needed only the approval of a court in London after a January 5 vote by FOGL shareholders in favour of the all-share merger with Rockhopper. The court approval came on Friday and the merger became official on Monday.
The news comes a week after the confirmation by another UK firm, Premier Oil, of an oil find at the Isobel Deep well off the Falklands. FOGL and Rockhopper are co-stakeholders with Premier in that well.
Argentina has objected to the offshore development by British, US and French firms because it claims the Islands and surrounding waters. The Islands are a British Overseas Territory and in March 2013 held a referendum on their future in which the Islanders overwhelmingly supported remaining under British sovereignty.