Changes to the South Atlantic Air-bridge: Brize Norton-MPA Falkland Islands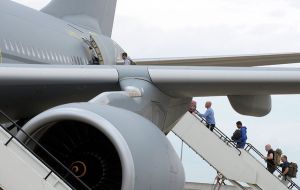 The Falkland Islands' government and the UK Ministry of Defense have announced that residents should be aware of recent changes to regulations related to travel on the South Atlantic Airbridge, Brize Norton/MPA.
The changes have been set out by the MOD in the most recent version of the Joint Policy Statement and should be considered to be in immediate effect for all bookings made from this point in time. However bookings made previously will not be affected.
Changes include an additional hand luggage allowance on top of the hold luggage allowance; 9 kg of hand luggage is now permitted in addition to a passenger's defined luggage allowance.
Infants under two years will now be permitted 20kg of hold luggage (compared with the previous allowance of 5kg).
Regarding cancellations and amendments: All flights which are amended or cancelled by a passenger will now incur a £30 administration fee, regardless of how far in advance the cancellation takes place.
Return flights can be amended but not be cancelled once the outward journey has been flown. If a return flight is cancelled when a first leg has already been flown then the full fare will be lost unless the flight leg can be transferred to another passenger.
As to late bookings: Where seats are available (i.e. within the Falklands Islands allocation of 31 seats) passengers will no longer be charged a late booking fee for bookings made within two weeks of any given flight date. However, waitlisted seats will still be charged an additional £30 administration fee.
Passengers should note that flight bookings made and confirmed within 72 hours of the relevant flight date are non-refundable and non-transferrable.
Finally full details on all regulations relating to bookings on the South Atlantic Airbridge can be obtained from your relevant flight booking agency. It is strongly advised that all passengers thoroughly read the information offered by the booking agencies at the time that they make their booking.
More details and assistance with making travel arrangements can be obtained from the FIGO travel office in London, travel@falklands.gov.fk ; or the FIC travel office in Stanley, flightbookings@fic.co.fk