"Great expectation" regarding Macri/Cameron meeting; Malvinas, 'a priority'
Thursday, January 21st 2016 - 07:04 UTC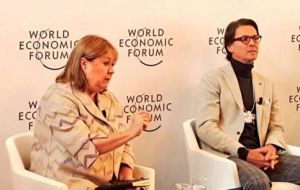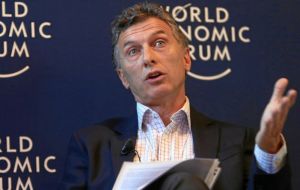 There's 'a great expectation' regarding Thursday's meeting between Argentine president Mauricio Macri and UK Prime Minister David Cameron on the sidelines of the Davos economic meeting in Switzerland, said Argentine foreign minister Susana Malcorra, who emphasized that "Malvinas (Falklands) remains a priority issue for Argentine policy".
There is great expectation because "we hope to open a dialogue space on the Malvinas Islands sovereignty", added Malcorra.
"President Macri has scheduled several high level meetings, one of them with Cameron, on his request. As always in these cases there's expectation in opening a dialogue space and discussing the several issues of a common agenda", pointed out the Argentine official who arrived to Davos before the rest of the Argentine delegation.
Before leaving for Switzerland on Tuesday, president Macri anticipated to a meeting of foreign reporters from leading newspapers that he was attempting "to begin a new type of relation with Great Britain", following the long period of tension and almost frozen links during the Kirchner couple's years.
"Argentina wants to have good ties with the entire world. I want to create jobs, I have committed myself to an Argentina with zero poverty. We need investment," he said.
Malcorra repeated almost the same statements arguing, "Argentina needs to position herself as a serious reliable partner. We need to talk and work with all countries in the world". On her first day in Davos, Ms Malcorra met with her peers from Norway and Liechtenstein and was the lead speaker at a debate on "Regions in transformation".
"All is on the table board. Foreign relations are a State policy at the service of the country. We must ensure that what we do is absolutely aligned and that is whay the opening of the economy, looking for investments and business opportunities is essential to our agenda", underlined Malcorra.