In a surprise move, Brazil's central bank leaves interest rate unchanged at 14.25%
Thursday, January 21st 2016 - 07:13 UTC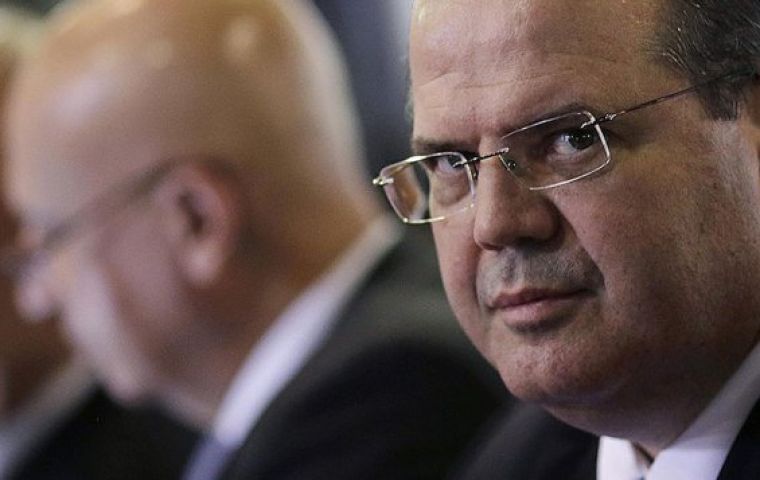 Recession-hit Brazil's central bank in a divided vote left the key interest rate untouched on Wednesday despite rising inflation, opting against an increase that could put a further brake on the world's seventh-biggest economy.
Surprising some observers, the bank left the benchmark Selic rate at 14.25%, citing "increased domestic and particularly external uncertainties."
It said central bank chief Alexandre Tombini and five other members of the monetary policy committee had voted to hold the rate steady, while two voted to increase it.
Officials are under pressure to ease the hardship of ordinary Brazilians squeezed by rising prices with double-digit inflation. But the bank has been in a bind, since raising the rate risks further dampening economic activity just as fresh data point to a deep recession this year.
The rate has now been steady since July 2015, when the bank made the last of seven consecutive hikes to try to put a lid on inflation.
Battered by economic and political turbulence as it prepares to host this year's Olympic Games, Brazil recorded its highest inflation rate in 13 years at the close of 2015, at 10.67%, well above the central bank's target ceiling of 6.5%.
That rapid rate in the rise of prices for everyday goods sharpens Brazilians' economic woes after the country fell into recession in the second quarter of last year.
The International Monetary Fund said on Tuesday it expected Brazil's economy to contract 3.5% this year, a much darker outlook than its previous forecast of 1% fall. IMF also cut its forecast for the world economy as a whole, saying that risks in the major emerging economies were weighing down growth.
The Fund warned the strong US dollar, collapsed oil prices and political turmoil could all cause further havoc in struggling economies like Brazil's and Russia's.
Brazil's economy shrank by 3.8% in 2015. The country is suffering rising unemployment and a drop in investor confidence fueled by impeachment proceedings against populist President Dilma Rousseff and a major scandal at state oil firm Petrobras.
The Copom release stated that assessing the macroeconomic scenario, prospects for inflation, and the current balance of risks and considering the increase in domestic, and particularly external uncertainties, Copom decided to keep the Selic rate unchanged at 14.25%, with six votes supporting and two favoring an increase of 0.50 percentage points.