Argentina admits "epidemic of (mosquito-borne) dengue fever", including Buenos Aires city
Friday, January 22nd 2016 - 07:17 UTC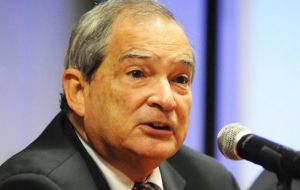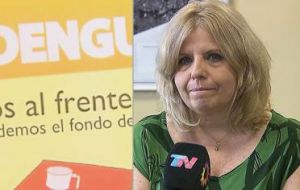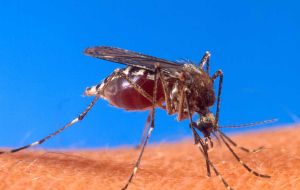 The first cases of Dengue fever struck Buenos Aires City this week as a spate of outbreaks in Greater Buenos Aires and across Argentina's northeast were labeled "an epidemic" by Health Minister Jorge Lemus.
"We already have an epidemic of Dengue fever," Lemus said, in reference to the provinces of Misiones and Formosa where hundreds of cases have been reported. The recent outbreak of the disease also reached neighborhoods in Buenos Aires City.
"The entire City is at risk. The contagion can occur anywhere," said City Health Minister Ana María Bou Pérez during a television interview. "It is very serious what is happening in neighboring countries," she added, in reference to the rapid spread of Dengue fever.
Consequently, Bou Pérez announced a City-wide prevention plan to help combat the spread of the disease, which according to the health minister will target situations where the disease can foster, most specifically in pools of standing freshwater, where mosquitoes breed and lay their eggs.
"We are in conversation with the Environment Ministry to begin fumigation of the more highly vegetated zones in the City," Bou Pérez said, highlighting the added risk in these areas due to the prevalence of the Aedes Aegypti mosquito which transmits the disease.
Meanwhile, 30 cases were reported in Buenos Aires province. While the majority of these occurred in people returning to the province from endemic zones such as Paraguay, six cases were caught in the province underlining the autonomous presence of the virus in Argentina's most populous province.
Across Argentina more cases of dengue were reported in Córdoba, Chaco, Corrientes, Entre Ríos, Formosa, Catamarca, Salta, Santa Fe, La Pampa and at least 35 cases in Misiones. Authorities in the north-eastern region bordering Brazil and Paraguay said that as many as 800 cases were suspected there.
Lemus declined to provide figures regarding the precise numbers of cases at the national level, but insisted that direct action to combat the spread of the disease was crucial.
"The frequency with which these cases are appearing forces us to take extreme measures to prevent the mosquito reproducing," he said, adding that "repellent must be used carefully to avoid bites. What you need to do is control the spread of the mosquito," he said.
The eruption of dengue fever, the most severe in Argentina since an outbreak in 2009, comes amid growing fears of an epidemic of the more mysterious Zika virus across Latin America.
Both diseases are contracted through mosquito bites, though they can also be transmitted vertically, such as from mother to baby. While they share some noticeable symptoms, Dengue is identifiable through the high fever and muscular pain it induces, while Zika causes inflamed skin and severe rashes.