Macri/Cameron coincide on new relationship; Falklands left for further on
Friday, January 22nd 2016 - 04:45 UTC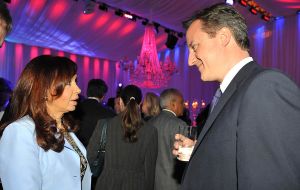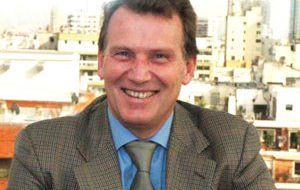 Argentine President Mauricio Macri met on Thursday with British Prime Minister David Cameron in Davos as both leaders attend the World Economic Forum in Switzerland. The atmosphere of the meeting was described as 'very positive' and several steps of a new relationship were announced, while the Falklands/Malvinas issue was left for further on.
Macri had anticipated his administration will "continue" demanding dialogue on the sovereignty of the Falklands/Malvinas Islands but in a different tone, seeking to "initiate a new type of relationship" with London.
Likewise prior to the Macri/Cameron meeting, Foreign Minister Susana Malcorra praised the encounter. "Expectations are to open a space to dialogue and discuss the different affairs of the common agenda, and, like we all know, Malvinas to us is a priority."
Cabinet Chief Marcos Peña, Foreign Minister Susana Malcorra, Strategic Affairs Secretary Fulvio Pompeo and Renewal Front (FR) lawmaker Sergio Massa were part of the meeting which Macri considered "very nice."
Cabinet chief Peña said that the meeting "was very positive, and both leaders coincided in beginning a new chapter in the relation"-
"Malvinas was left as an issue to address. Clearly we have a difference, and each has its position", added Peña, but underlining "we are embarking on improving relations for the benefit of both Argentines and English".
Thursday's over half hour meeting was the first official contact between Macri and Cameron with the UK PM congratulating Macri in December last year for his victory in the presidential runoff.
At the time, a spokesperson from the British government said "both leaders agreed on the need to continue a path of open dialogue and to work for a stronger association even acknowledging the differences between both countries." Today's meeting was also requested by London.
According to Argentine sources it was agreed that a UK business delegation would visit Argentina in the second half of the year to address infrastructure projects, while Cameron invited Macri to attend a London conference to debate transparency in public affairs and combating corruption.
The meeting between the two heads of government was the first formal contact since 2009, and had a first approach with a telephone call last December from Cameron to congratulate Macri for this victory in the runoff that confirmed him as Argentina's president.
At the time a Downing Street spokesperson said that acknowledging the differences between both countries, "the two leaders coincided in the need to follow a path of open dialogue and work for a stronger association".
Former president Cristina Fernandez came across PM Cameron in two opportunities during the G20 summits, but never agreed on a bilateral meeting. In one of them, back in 2012, Cristina called on Cameron to start discussions on the Falklands/Malvinas issue and the British leader demanded respect for the will of the Islanders to freely determine their own future, and at the same time rejected a block of documents which the Argentin president tried to put in his hands.
Before that in 2009, Cristina Fernandez held a 35 minute talk with former PM Gordon Brown in Viña del Mar, Chile in the framework of a summit of Progressive Leaders. And in July 2003, Nestor Kirchner came across Tony Blair during a 'Third Way' conference held in London.
It was described as "an informal chat, out of agenda" which lasted 25 minutes. Previous to that another Argentine president Fernando De la Rúa, back in 2000, flew to Davos to meet Tony Blair: "it was general talk, no negotiations, rather getting to know each other".
Meanwhile in Buenos Aires the official gazette, Decree 208/2016 confirmed the appointment of economist Renato Carlos Sersale Di Cerisano as Argentina's new ambassador to London. A member of the country's diplomatic team since 1970, the successor of Alicia Castro has led the Argentine embassies in South Africa and Italy.
The decree also points out that the UK government has already extended its 'placet' to Sersale Di Cerisano.