Argentina wants to recover the space it deserves in the world, said Malcorra
Saturday, January 23rd 2016 - 07:48 UTC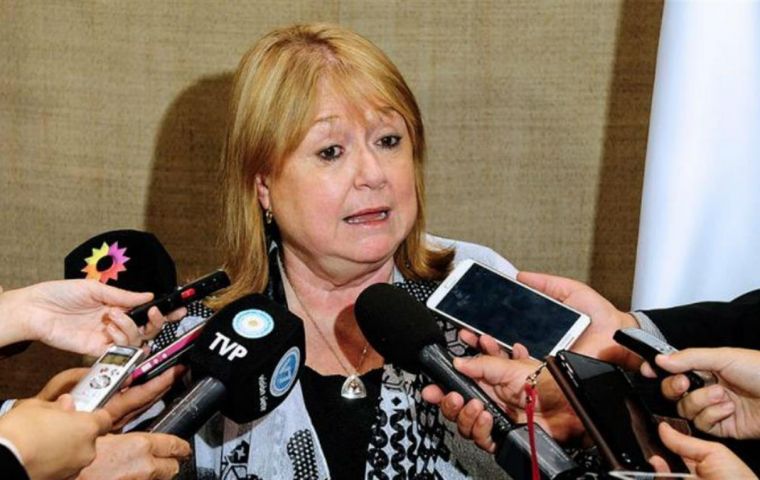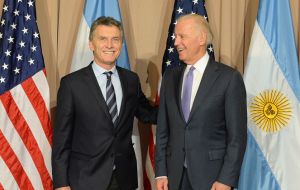 Argentine foreign minister Susana Malcorra was also very busy while in Davos, holding a raft of meetings including with US Secretary John Kerry, who at the end of talks twitted, "great discussion on range of topics w FM @SusanaMalcorra. #Argentina remains important friend & partner in region".
"Expanding relations is the way to advance in the world community; we must generate trust, which we must win and this also means not accepting impositions" said the minister in a press conference.
"To show concrete results we must prove we are interested in abiding and being part of world rules, so that helps bring investments, export opportunities, trade", underlined Macorra who added that "this does not mean returning to a model of carnal relations; furthermore the president had a very full agenda of meetings, political, business, financial, and all were much interested in talking with the Argentine president".
She also pointed out that the fact that the presence of former presidential candidate who opposed Macri in the elections was seen as a strong signal that "Argentina is thinking, acting and has a distinct attitude"
"Argentina is in a plan to insert herself in the space that she deserves in the world", Malcorra affirmed.
As to the meeting with Kerry, the minister said it was "very positive; we had expectations; we addressed an agenda of common issues, from politics to investments and business opportunities, to those related to climate change, terrorism, corruption and drugs trade".
"When we addressed climate change, we talked about renewable energies and Kerry was informed of the huge potential of Argentina. He told me about the exponential growth of that business in the US and how many jobs it had created, and gave instructions for a task group to specifically deal with this industry", said Malcorra.
As to the possible meeting of Macri with Obama, Malcorra confirmed to Kerry that Macri would be attending the world summit on nuclear development regarding "nuclear materials, combating proliferation and the strategy to impede any attempt of nuclear terrorism"
Finally Malcorra brought up the issue of Argentina's ongoing dispute with the speculative funds.
"I mentioned to the State Secretary the firm and serious intention of President Macri to close the dispute once for all with a reasonable solution, concerns about the fact it was the funds that asked for a postponement of the meeting, and that there's no change of attitude from our side. President wants to close and resolve the issue"-.