France confirms Hollande visit to Argentina, Uruguay and Peru next month
Saturday, January 23rd 2016 - 04:41 UTC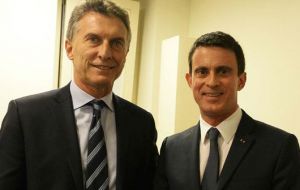 President François Hollande will be visiting Argentina next month, the country's prime minister, Manuel Valls, confirmed to President Mauricio Macri in Davos, where the two leaders discussed the remaining details of the trip that will include stops in Uruguay, Peru and Argentina.
According to reports from the Argentine news agency, talks were cordial and held in Spanish. Valls thanked Macri for his goodwill and support regarding the terrorist attacks in Paris last November, which killed 137 and left 400 wounded, as well as the attacks against the Charlie Hebdo magazine a year ago.
Macri, for his part, proposed France agree on an exchange of offers to advance a Mercosur-European Union agreement, which the new government wants to speed up in tandem with its trade bloc partners. France is seen as one of the obstacles on the European side to sealing a deal.
Macri also met with Swiss President Johann Schneider-Ammann, who said his country was "very enthusiastic" about the possibility of extending and deepening the bilateral relationship and the trade and cooperation links that exist with Argentina.
Switzerland said it supported a rapprochement from Argentina to the members of the European Free Trade Association (EFTA), a commercial bloc where the Swiss are joined by Norway, Iceland and Liechtenstein, and which pushed for the liberalization of trade among themselves and with the rest of the world.