Macri and Obama could meet at the end of March, reestablishing formal bilateral dialogue
Saturday, January 23rd 2016 - 08:01 UTC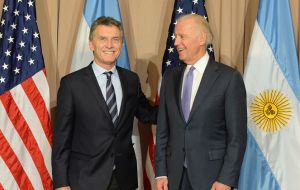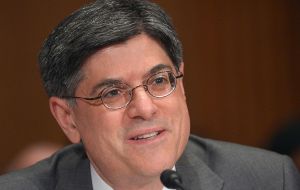 Mauricio Macri expects to meet with Barack Obama at the end of next March when the Argentine president attends in Washington the summit on Nuclear Security of which Argentina is a member. The event takes place between 31 March and first April, and if the meeting effectively takes place, it would mean the return of the formal dialogue between the two countries, rather frozen under his predecessor Cristina Fernandez.
"It was an idea we had in the agenda, taking advantage of the summit for the president to meet with Obama and make the arrangements for a formal bilateral meeting", said the Argentine foreign minister Susana Malcorra, before leaving from the Economic Forum in Davos.
While in Davos, Macri had a long conversation with US vice-president Joe Biden as part of the new bilateral atmosphere. Likewise US Treasury secretary Jacob Lew announced the US would no further vote against loans to Argentina in multilateral credit organizations such as the World Bank and the Inter American Development bank.
Macri and Economy minister Alfonso Prat-Gay also confirmed meetings with IMF officials and the resumption of formal relations meaning Argentina will comply and the Fund will have access to the country's finances and numbers, which has been suspended since 2006.
Joe Biden also praised Macri for having invited Sergio Massa to the meeting, one of the presidential hopefuls of last October's election, saying that "it should be an example for back home, and our partisan Congress".
Malcorra had anticipated that Obama had plans to visit South America this year, and was 'specially interested' in Argentina, "so we should not be surprised if we effectively host the US president sometime later this year".
Macri also pointed out that no matter who wins this year's presidential election in the US, "Argentina is ready to jointly work in issues related to climate change, terrorism and corruption"
Before leaving Davos in a press conference, during which he spoke in English, Macri underlined that 'pragmatism' is the heart of Argentina's relations with the rest of the world, and pledged that all the data on his administration performance would be made 'public' and 'real', both at home and overseas.
"I'm very happy of having attended the forum as president. Argentina's idea is to establish intelligent and pragmatic relations with the rest of the world", leaving aside all possible barriers from 'ideological differences', since his responsibility as president was "to help create quality jobs for Argentines".
As to the ongoing litigation with the holdouts (speculative funds holders of Argentine defaulted bonds), Macri and Economy minister Prat-Gay said that 'Argentina is prepared to conform an agreement" and revealed that a meeting was scheduled with the funds on first February in New York.
"I want to underline that after so many years of conflict, we're taking action. We've travelled to New York and told the funds and federal Justice that we are prepared to conform an agreement. We're committed to reaching an agreement the soonest possible, which must be balanced for both sides. We expect the other side to also conform and commit", said Macri