Paraguay's Dominguez, expected to be confirmed Conmebol president on Tuesday
Monday, January 25th 2016 - 08:29 UTC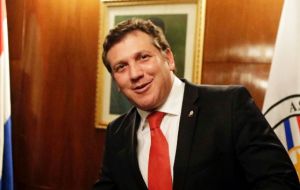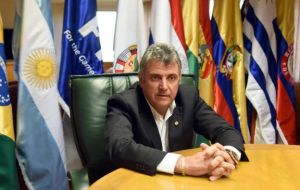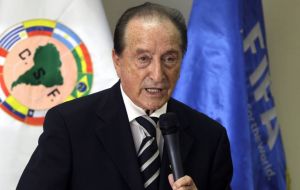 Conmebol the South American football confederation rattled by corruption and massive arrests of its former members (except Uruguay's), involved in the major FIFA scandal, has a president, and if nothing happens from here to election day, 26 January, he is Alejandro Domìnguez, (43) a Paraguayan economist, belonging to one of the richest families in the country.
His election was confirmed when the other candidate, Wilmar Valdez, head of Uruguay's football association, dropped from the race. "This is not my election so I will continue as head of the Uruguayan football association" confessed the Uruguayan hopeful when he realized that Dominguez had managed to convince the two major confederations from the region, Brazil and Argentina.
On Tuesday representatives from the ten-member Conmebol are scheduled to meet at Luque, when Dominguez is expected to replace Angel Napout (his predecessor a jailed in the US since last December). The following step is to see who will occupy the strategic posts of chairman and the three members who will be representing South America in FIFA as of 26 February when the next president of the International football association to replace Joseph Blatter will be elected.
Conmebol's former chairman, Jose Luis Meiszner, is under arrest waiting to the extradited to the US. Apparently Argentina's Boca Juniors, one of the two leading clubs in the country is sponsoring Cesar Martucci, who also happens to be involved in politics but does not have the blessing from Argentine president Mauricio Macri, himself a former president of Boca Juniors.
The other big battle on Tuesday will be who is to occupy the three positions (vice-presidency and two members) at FIFA's council. These until recently were occupied by Julio Grondona from Argentina, who died in 2014; Paraguay's Nicolás Leoz, under arrest and soon to be extradited to the US and Luis Bedoya Giraldo, from Colombia, arrested in New York since last December. Another ex FIFA vice president is Uruguay's Eugenio Figueredo who was arrested in Zurich and has since been sent to Montevideo, where he is facing several criminal charges.
Argentina apparently has agreed to nominate for one of the three benches in Zurich the president of San Lorenzo Club, Matías Lammens. San Lorenzo also happens to be the team Argentine born Pope Francis has supported since he was a child.
A second bench is reserved for a Brazilian representative and the third to Lauerano González from Venezuela, according to the latest data. Apparently Gonzalez sponsored an only unity option for election day, and managed to convince his peers, and thus the prize.