Malvinas: when Argentina is strong and united, world public opinion will back us
Tuesday, January 26th 2016 - 08:47 UTC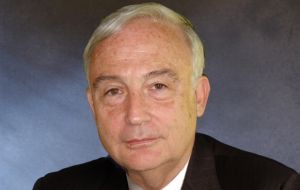 The meeting of the Argentine president with the British prime minister in Davos was "a good thing" a symptom that we are back on the right political track, which has been applied before: to continue claiming sovereignty over the Malvinas Islands, without having to spoil good relations, investments, trade, and with time and circumstances even consider joint undertakings.
The statement belongs to Andres Cisneros who was deputy foreign minister to Guido di Tella in the nineties when Argentina was ruled by Carlos Menem, and the two countries agreed on issues of interest for both sides: fisheries, travel, oil.
Under the heading "Seriousness and hope" Cisneros argues that even when many furiously combated this approach; it's now again "a national consensus".
Cisneros recalls that following the 1982 war, recovering the Malvinas was most difficult since public opinion in Argentina was rather flat with resignation, while Kirchnerism turned it into a demagogic cavalcade with no chances of success. And with public opinion so many times convened to these resonant crusades, many also succumbed to the illusion that even a fifteen minute interview with some British official, was the clue and the solution to the dispute.
The path is the opposite. A triumphant interview will take place in many years to come, when we are again a country so important that Britain can't continue to ignore us. And then they will have to grant us more than fifteen minutes.
In the meantime, for several decades, we have to stop being hopeful about some out of the blue discussions, and concentrate not in what happens overseas, but at home in Argentina among us.
This government (president Macri) and several others to follow must focus less on the Camerons of this world and promote in schools, universities, foundations, law, geography, international relations studies centers, here and overseas so as to create the widest consensus possible, with that impregnated slowness which characterizes those concepts that grow deep roots.
Because the solution for the Malvinas dispute will come much less from astute lawyers and diplomats, than from the influence that everyday world public opinion exercises over issues. That is where the matter will be decided.
That is why Argentine foreign policy on Malvinas must be built here, more productively than meetings with the Camerons, which are needed but are insufficient. For the national objective of convincing UK public opinion that we must sit to discuss Malvinas, whoever the president is, will need a State policy on Malvinas that we all solidly support decades after it has been built. Only then will we begin to recover the Islands. We need a State policy on Malvinas that lasts in time and does not change, even if governments change. The world will then understand what we are talking about.
The true reason why we are a country in a serious and too-long decadence is precisely because of our lack of capacity to reach agreements and keep them in time, as has been happening for decades, close to us, in countries such as Brazil, Chile, Uruguay. That is how Mercosur was born, the most important Argentine foreign policy milestone in the XX century, and not by chance is currently moribund, since we are not an underdeveloped country, but rather an under-ruled country.
The Malvinas solution will take many years, when we are again strong to the world's eyes and united at home. We should work on that policy for years, so the benefits profit the next generation, and possibly even another. Building for the benefit of those who have yet to be born was the conduct of our forbearers who created the late Argentine grandeur. But for that to start we need that after a decade, we should again be ruled by statesmen. Last 10 December Argentina recovered the capacity to work on that hope.