Venezuela could lose UN voting rights because of US$ 3m in arrears
Tuesday, January 26th 2016 - 07:34 UTC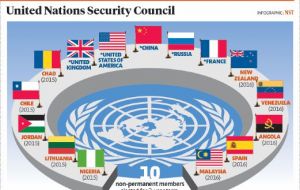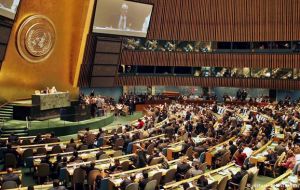 St. Vincent and the Grenadines, Venezuela and the Dominican Republic are among nine countries that have lost their voting rights at the United Nations because of arrears in their annual contributions to the world body.
The three Caribbean nations were identified along with Bahrain, Burundi, Libya, Mali, Marshall Islands and Vanuatu by UN Secretary-General Ban Ki-moon in a letter to the UN General Assembly.
Ban indicated that the countries would have to make a minimum payment to have their voting rights restored.
In the case of St. Vincent and the Grenadines, the minimum payment would be US$2,155; for the Dominican Republic it would be $2.1 million; and Venezuela, which is set to take over the rotating presidency of the UN Security Council in February, would have to fork out just under US$3 million.
Under Article 19 of the UN Charter, a Member State in arrears in the payment of its dues in an amount that equals or exceeds the contributions due for two preceding years can lose its vote in the General Assembly.
An exception is allowed if the Member State can show that conditions beyond its control contributed to this inability to pay.