Princess Ann meets Falkland Islanders on her round trip to South Georgia
Wednesday, January 27th 2016 - 07:26 UTC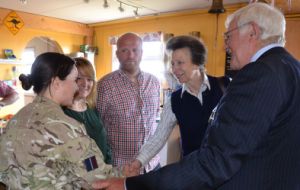 Her Royal Highness The Princess Royal paid her first visit to the Falkland Islands since 2009 this month as she passed through en route to her first official visit to South Georgia. Princess Anne is the Royal Patron of the South Georgia Heritage Trust.
During her stay in Stanley, the capital of the Falkland Islands, The Princess Royal visited the town's historic dockyard, met young members of the Falklands Conservation Watch Group, and had tea with older members of the community at the King Edward VII Memorial Hospital Day Centre. Her Royal Highness unveiled a Commonwealth Walkway marker, just as The Queen did during her visit to Malta in 2015.
The Princess Royal's visit to South Georgia gave her the opportunity to see at first hand the unique environment and heritage of the island, to meet the people who live and work there, and to mark the centenary of Shackleton's crossing of the island.
Upon her return to the Falklands, The Princess Royal flew to the settlement of Fox Bay on West Falklands, to meet members of the rural community.
Under the original program Princess Anne was to complete her Falklands' program before embarking for South Georgia. However weather conditions forced a change in program. The Princess was accompanied by her husband Vice Admiral Sir Tim Laurence.