Argentine ex Army commander praises Macri/Cameron dialogue: what matters is getting started
Thursday, January 28th 2016 - 05:21 UTC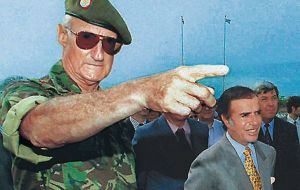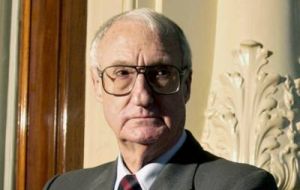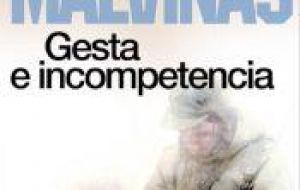 A former commander of the Argentine Army and Malvinas war veteran Martin Balza praised the recent meeting of President Mauricio Macri with UK Prime Minister David Cameron arguing that whatever is done to advance a serious, respectful, mature dialogue must be welcomed; "there won't be immediate results from that dialogue, but this is like a marathon, what matters are the first steps".
"I believe that in recent decades Argentina has had an oscillating policy towards Malvinas, from trying to seduce the Islanders as in the nineties, which did not work, but we can't have an aggressive stance, we must learn to respect them. Efforts will never be enough for dialogue when there is also room for dissent", said the General, who has recently launched a book on his almost half a century with the Army, "A soldier's log book".
"Precisely my first major military protocol act was an impressive military parade when ex president Juan Domingo Peron took office for a second mandate in 1952".
Balza was head of the Army when Carlos Menem was president in the nineties and later was ambassador to Colombia and Costa Rica under the Kirchner couple administrations..
In the book Balza recalls most of the coups suffered by Argentina since 1955. "They were all military and civilian coups: the Armed Forces had the main responsibility, but always with support from civilian groups" and he added, "this naturally eroded the Army. But now coups have been definitively buried in Argentina".
As to the Falklands/Malvinas conflict, defeat was the "coup de grace", it showed that for years the Army had abandoned its institutional role and this had eroded professionalism. He added, "the military-civilian governments were definitively a disaster".
Balza said that the Argentine armed forces are now subordinated to political power, as established in the Constitution, and praised the trials of the military commanders ordered by then president Raul Alfonsin, as well as the squashing of the military rebellion of a group of 'carapintadas', under the orders of Mohamed Seineldin which took place on December 1990.
Precisely it was Balza who defeated the uprising, on orders from Menem. Sineldaín was arrested and sentenced. "With this all the childish games in which a miniscule grouping of the Army altered the institution and struck the understanding among Argentines, and damaged the country's image, was over".
Balza also performed a historic event, he went on national television and it was the first time the Argentine military accepted criticisms and apologized for illegal repression during the last dictatorship. "It was an institutional reply from the Army, of which President Menem did not have a participation or previous announcement".
"I was thinking of making the message public on Army's Day but it had to be advanced to 25 April 1995", said Balza who revealed that by mere chance his media attaché had good contacts and managed a 'few minutes' in a television program which had a very high rating. "We then said what we had been preparing for months with my closest aides", and it had a huge impact on reconciliation, I believe".