Argentina seals US$ 5 billion deal with international banks at Libor plus 6.5 points
Saturday, January 30th 2016 - 12:21 UTC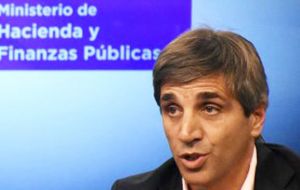 Argentina's central bank said on Friday it had sealed a deal for a US$5 billion, one-year loan from international private banks, bolstering its low foreign reserves as the country heads into talks with creditors suing over unpaid debt. Argentina has been shut out of global credit markets because of its long-running legal dispute in U.S. courts with creditors over debt it defaulted on in 2002.
President Mauricio Macri, who took office last month, has said he hopes to reach an agreement early this year, enabling Argentina to re-gain access to capital markets. In the meantime, his government has secured alternative financing.
This commercial bank loan "facilitates the central bank's capacity to confront external shocks and thereby avoid disruption in the local market," the regulator said in a statement.
The loan will be backed by Bonar 2022, Bonar 2025 and Bonar 2027 notes in the central bank's portfolio, it added.
Argentina's foreign reserves rose to $30.071 billion on Friday from $25.241 billion the previous day, the central bank said in a separate statement after the local markets' close.
The interest rate on the commercial bank loan will be the Libor rate plus 6.15 points. The banks HSBC, JPMorgan Chase & Co. and Santander will contribute $1 billion each, while Deutsche Bank, BBVA, Citibank and UBS will lend 500 million each.
Argentina has said it will present a proposal to settle its legal debt battle next week to the U.S. court-appointed mediator Daniel Pollack.
Finance Secretary Luis Caputo, a former Deutsche Bank executive, has already traveled to the United States to meet with Pollack next week, the Finance Ministry said on Friday.
"There will be informal meetings on Monday and Tuesday with Pollack and possibly with the holdouts," the ministry said. "We do not know yet when the proposal will be presented. These meetings will be held without lawyers present."
Argentina originally hoped the talks would take place the week of Jan. 25 but the holdouts asked for them to be postponed a week due to "logistical difficulties". Apparently holdouts are divided in hard cores that demand full payment plus interest and fines accrued, as supported by a federal judge ruling and the so called 'me too' which joined later but have a more flexible approach.