Falklands/Chile weekly flight: LAN interested in having a larger aircraft
Saturday, January 30th 2016 - 11:29 UTC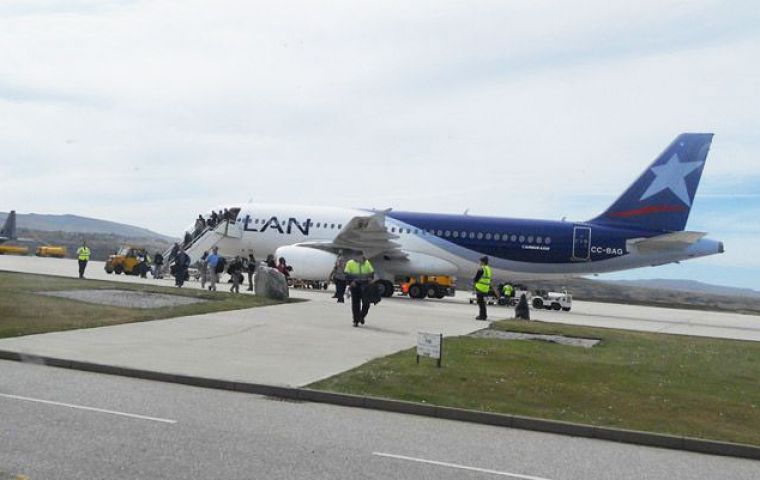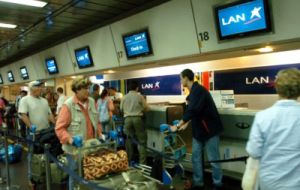 An indication of interest has been forthcoming from Chile's flag carrier LAN in relation to bringing in a larger aircraft to cope with the volume of passengers and freight to the Falkland Islands.
The volume of passengers currently impacts on the amount of freight (including fresh fruit) that can be carried to the Islands and concern about the issue was expressed at the public meeting held on Monday in Stanley, according to reports in the latest edition from weekly Penguin News.
MLA Mike Summers said LAN had indicated that they would like to bring a larger aircraft in, but that there were certain things which the Falklands' government and Mount Pleasant would have to do to make that possible. There was not a definite date when it would happen, he said but it was planned that a larger aircraft would service the Falklands.
MLA Summers said what had not been tested in recent months was whether there was any chance the Argentine Government would relax its view on additional flights to the Falklands to include a freighter, "but that might be worth a crack," he said.
One LAN aircraft, an Airbus 320, which typically seats 150 people, makes one return trip to the Islands a week from Santiago, Chile via Punta Arenas, and once a month makes a stop (in both directions) in Rio Gallegos in Argentina.
The current arrangement dates back to the agreement and joint statement signed in London on 14 July 1999, and which referred to several issues. Specifically the chapter on sir services stated that:
(1) The Argentine Government will seek the consent of the Chilean Government to the immediate resumption of civil air services between Chile and the Falkland Islands, operated by Lan Chile or any other carrier agreed between the Parties.
(2) It is envisaged that civil air services between Punta Arenas and the Falkland Islands will take place once a week. From 16 October 1999 they will make initially two stops per month at Rio Gallegos, one in each direction. This arrangement will be kept under review.
(3) In the event that the Punta Arenas service does not continue, one of any successor or substituting civil air services will make a stop in mainland Argentina, initially at a rate or two stops per month, one in each direction.
(4) Flight clearances issued by the Argentine authorities for civil air services to the Falkland Islands will enable the carrier or carriers to postpone flights for natural or technical reasons.
(5) Should civil air services between the Falkland Islands and third countries be operated then the option of making stops in mainland Argentina may only be exercised after 16 October 1999 by the operators based on overall commercial considerations and subject to the appropriate authorisation by the parties.
(6) The Argentine Government will seek the support of its Mercosur partners for these arrangements.