Ginny Ferson appointed to St Helena to oversee implementation of Wass Report.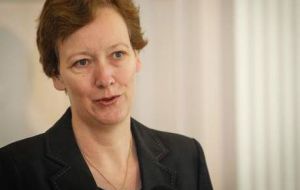 The Foreign Office can confirm that Ms Ginny Ferson has been appointed to British Overseas Territory St Helena, as UK Government Special Representative: Wass Inquiry Implementation. This is part of the UK Government's commitment to implementing the Wass report's recommendations.
Minister Duddridge's Written Ministerial Statement of 10 December 2015 included a commitment from the UK Government to appoint a Senior Official to oversee the implementation of the recommendations contained in the report.
Ms Ferson will support the governments of St Helena and Ascension Island in implementing these changes.
Ms Ferson is currently the Deputy Governor of Bermuda and previously held the position of Deputy Governor of Pitcairn. Ms Ferson will depart for Ascension Island and St Helena at the end of January.