"Falklands issue was settled" a generation ago says Labour shadow minister Eagle
Monday, February 1st 2016 - 05:09 UTC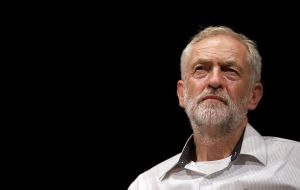 The sovereignty of the Falkland Islands was "settled" a generation ago, a Labour shadow business cabinet minister Angela Eagle has said despite her leader calling for a new "dialogue" with Argentina on the matter, according to a report in Sunday's editions of The Telegraph.
In other words Ms. Eagle dismissed a recent suggestion from opposition leader Jeremy Corbyn that the Islands' status could change, points out the article credited to Ben Riley-Smith.
Where Mr. Corbyn had said a new "dialogue" was needed over the Falklands, Ms Eagle said: "The Falklands issue was settled when I was at university."
The shadow minister also said Mr. Corbyn's call for businesses to be barred from paying dividends unless they pay staff the living wage was "not a runner". The idea had been the centre piece of a recent speech on the economy by the Labour leader.
The differences surface with Mr. Corbyn still at odds with much of his shadow cabinet over central policy areas despite a recent reshuffle.
Moderates around the top table do not support his interventionist economic policies such as quantitative easing and his drive to make the party formally oppose Trident renewal. The same regarding the Falklands and dialogue with Argentina.
Ms. Eagle also declined to rule out running to become leader in the future after speculation spiked following her impressive performances at the dispatch box in Mr. Corbyn's place, when she was seen to have got the better of George Osborne and was praised for her deadpan wit.
Asked whether she harbors any leadership ambition, Ms Eagle said: "You are not going to draw me on that one", concludes The Telegraph's piece.